We have not given our integrity for ministries: Akhtar Mengal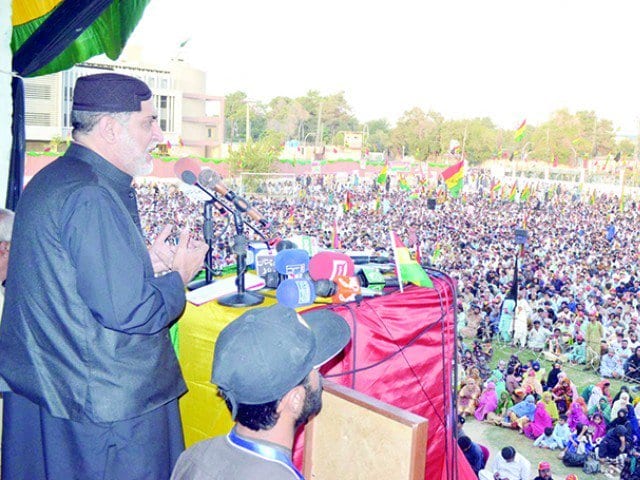 QUETTA: Sardar Akhtar Mengal of Balochistan National Party was addressing a huge crowd of party workers at Quetta's Hockey ground on Sunday.
Leader of Balochistan National Party (Mengal) Sardar Akhtar Mengal said that the assassination of Nawab Amanullah Zehri was political which had nothing to do with tribal disputes. He was murdered in revenge for the toppled government.
"We have not given up our integrity for the ministries and positions in the government. Our party leaders and workers have sacrificed their lives for the rights of the people of Balochistan", Sardar Akhtar Mengal addressed the public gathering in Quetta's Hockey ground on Sunday.
He said the Balochistan National Party (Mengal) is not visioned only on political ideology but it had a legacy of struggle and steadfastness. 
BNP's party workers from across the Balochistan attended the public gathering which was held in protest against the murder of BNP leader Amanullah Zehri.
The other leaders who addressed the crowd included Central Secretary-General Dr. Jahanzaib Jamaldeni, Senior leader Nawabzada Lashkari Raisani, Information Secretary Agha Hassan Baloch, MPA Sanaullah Baloch, Akhtar Langove, Hammal Kalmati, and Chairman Baloch Student Organisation Nazeer Baloch.
He warned the attendees that people are being pitted against each other in the province. He voiced," Balochistan National Party truly represents people of the province. Despite sacrifices, the party will continue to raise voice for the voiceless." 
The other leader who addressed the gathering was Nawbazada Lashkrai Raisani who said that people of Balochistan are united and they keep up with the struggle for prosperity and progression.
"We pay our tribute to the party leaders and workers for their sacrifices. It's time that we leave personal interests for the benefit of the people," Nawabzada Lashkari Raisani said.