Usman Wazeer wins ABF Welterweight title in Islamabad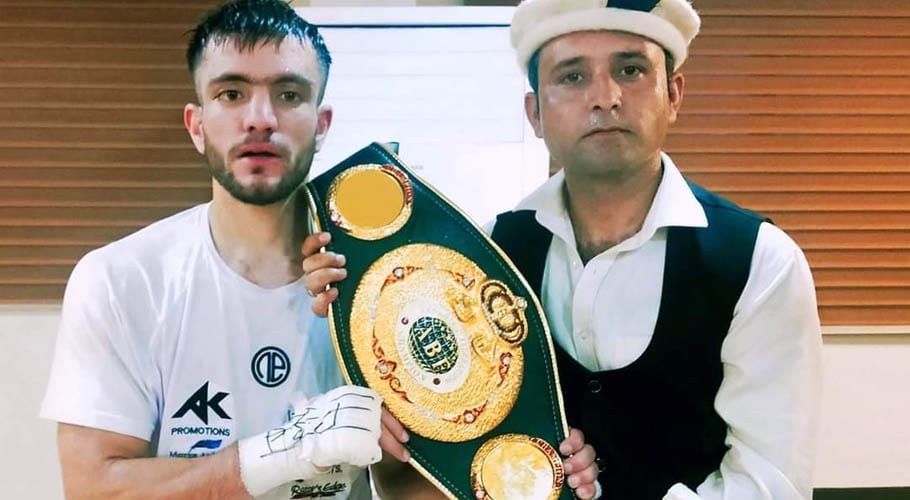 ISLAMABAD: The first-ever professional boxing show was held at Amir Khan Boxing Academy in Islamabad, featuring top boxers from Afghanistan and Indonesia 
Pakistan's young boxer Usman Wazeer showed exceptional skills as the won the Asian Boxing Federation title. British boxer Amir Khan who arrived in Pakistan for the event was impressed by his athletic skills.
The undefeated "Asian Boy" Usman Wazeer won his 4th consecutive fight with the ABF Welterweight title by knocking out 36-year-old Indonesian boxer Boida Bulldozer in the 10th round fight.
Lyari's boxing icon Nadir Baloch defeated his Afghan opponent Hamid in the six-round fight of featherweight category who suffered a 59-52 points defeat, Pakistan's Asif Hazara knocked out Afghanistan's Ramin Nejrabi in the second round in the super flyweight category.
In the superlightweight division, Pakistan's Bilal Mehsud knocked out Afghanistan's Amin-ul-Haq in the second round. Allah Baksh beat Polish boxer Artur Krzyzstof in the heavyweight category on a technical basis. Afghanistan's Jawad Hassan won his fight against Sikander Abbasi in the super featherweight bout.
In the lightweight category, Pakistan's Zahoor Abbas emerged victorious by knocking out compatriot Moin Khan in the second round. Adil Saeed defeated compatriot Abbas Ali in the middleweight category by knocking him out in the second round.
Pakistan-born two-time former world champion Amir Khan said they will soon announce another boxing event in Pakistan. He said they will continue boxing in Pakistan but it requires the full cooperation of the government and institutions. British High-Commissioner to Pakistan Christian Turner was also present on the occasion.