SMIU teachers protest against acting vice chancellor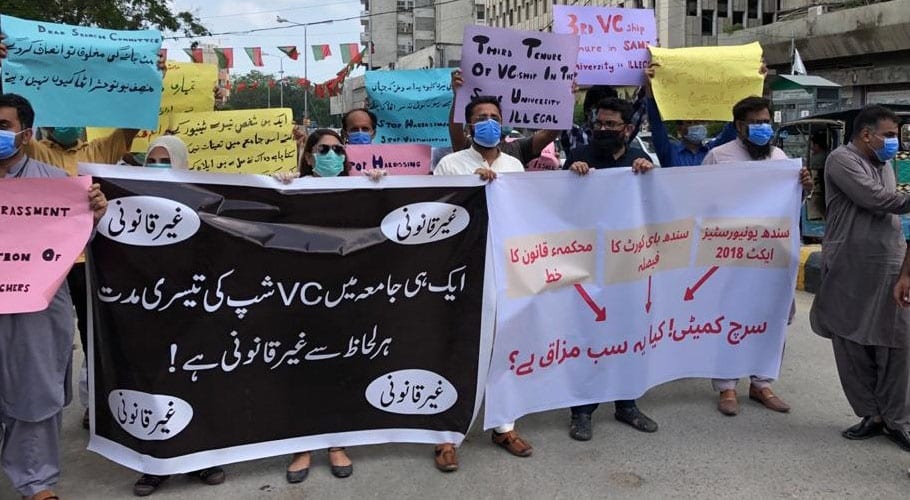 KARACHI: Teachers of Sindh Madressatul Islam University (SMIU) have protested against the shortlisting the name of the current acting vice chancellor for the post of vice chancellorship by the search committee in violation of Universities Act and Sindh High Court ruling.
The teachers also expressed their concern on the condition of 10-year administrative experience for the post of vice-chancellor as advertised by secretary universities and boards and demanded the removal of the condition.
They questioned, "When the act (the Sindh Universities and Institutes Laws (Amendment) Act 2014) and the letter from the law department clearly say that no person is eligible for the third tenure of vice chancellorship at the same university, then how the search committee could shortlist the acting VC of SMIU for an interview?"
The teachers warned the government that if the acting VC name was not taken out from the list of shortlisted candidates, it would suspend educational activities and boycott examinations.
"Search Committee has shortlisted Dr. Muhammad Ali Shaikh for the interview in contravention of all laws of the land," they added.
The protestors informed that the senate members of SMIU have consecutively written three letters to CM Sindh Syed Murad Ali Shah about the situation.
They also alleged that the senators have notified along with evidence the corruption, malpractices, misuse of power by current acting VC but no action has yet been taken by the CM.
Faculty members said, "Acting VC was harassing and victimizing them for writing letters to CM".
The teachers demanded the Search Committee abide by all laws and the letter of the law department. And they demand the immediate appointment of a competent regular VC in place of Acting Dr. Shaikh.