'Smart lockdown' imposed in several parts of Hyderabad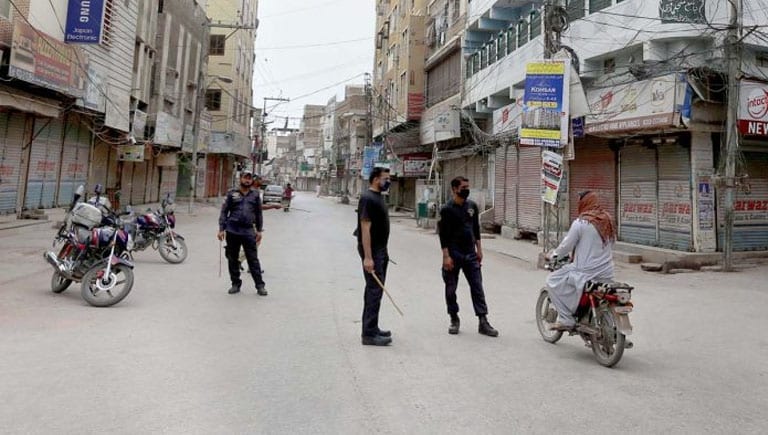 HYDERABAD: After a lockdown was imposed in various parts of Karachi, the government has decided to impose a 'smart lockdown' in several parts of Hyderabad city.
Hyderabad deputy Commissioner Fawad Ghaffar issued a notification to impose in lockdown in more than 90 areas of the city for two weeks starting from Friday, June 19 (today) till July 2, 2020.
According to a notification, three union councils (UCs) of Latifabad will be locked down. A single UC of Tehsil City will remain under lockdown, whereas five UCs of Qasimabad will also observe a lockdown.
The notification directs all UCs advised to undergo lockdown to strictly enforce standard operating procedures (SOPs) advised by the government until asked otherwise.
Police, Rangers and assistant commissioner have been tasked to ensure the implementation of the lockdown.
READ MORE: Coronavirus hotspots in Karachi to go under lockdown
All residents have been instructed to wear masks during the lockdown. No activity or gathering will be allowed in homes and only one member of the family will be allowed for purchasing food items.
As per lockdown rules, only one attendant will be allowed to accompany a patient. All shops and businesses, except essential food items and pharmacies, will remain closed. Public transport and pillion riding will also remain banned in the areas.
Yesterday, Sindh government decided to impose lockdown in virus hotspot areas of Karachi as the city remains worst affected due to COVID-19 pandemic. Commissioner Karachi Iftikhar Shallwani said that the lockdown will come into force from 7:00 PM in various parts of the city to stem the spread of the virus.