Shia community stages protest across Karachi against Macch killings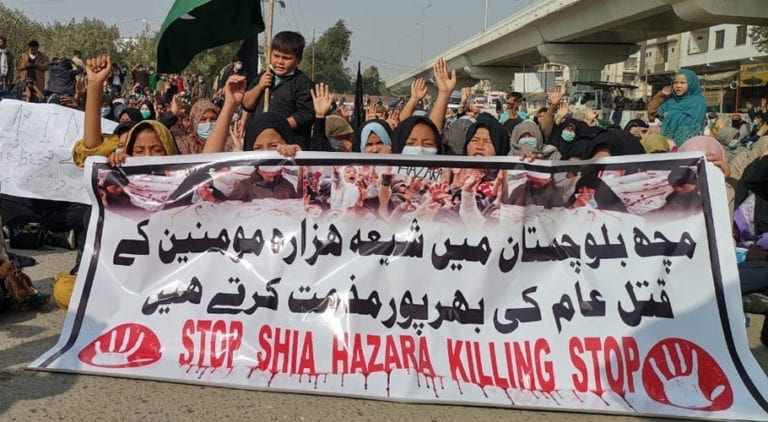 KARACHI: Shia community has started protests in various parts of Karachi to condemn the targeted killing of 11 coal miners in Macch area of Balochistan.
The 11 miners were kidnapped before dawn on January 3 as they slept near the remote coal mine in the mountainous area — 60 kilometers southeast of Quetta.  
The protesters gathered at Abbas Town, Abul Hassan Isfahani Road, Kamran Chowrangi Gulistan Johar, Power House North Karachi, Exhibition Chowrangi-MA Jinnah Road, Malir 15, National Highway and University Road.
A huge protest sit-in has been staged at Powerhouse Chowrangi in the Surjani Town area of North Karachi where a large number of women, children and elderly have joined the protests. Leaders of the Majlis Wahdat-e-Muslimeen (MWM) have also joined the protests.
Addressing the crowd, Allama Sadiq Jaffri said that every patriotic citizen shares the grief with the Shia Hazara community. He demanded the immediate arrest of the terrorists responsible for the killings and provide an exemplary punishment. He said terror outfits like ISIS are spoiling peace in Balochistan which cannot be restored with a military operation.
"We will not end our protest until the arrest of all the assassins. The latest wave of killings will spread to other cities including Quetta if decisive action is not taken at this stage", Sadiq Jaffri added.
Terrorists will not succeed in their wicked objectives. Terrorists involved in the incident are not deserving of any laxity, he said
There are sit-in protests at Abul Hassan Isphani road Numaish chowrangi against Hazara killings in Balochistan. Several roads have been partially blocked for traffic due to ongoing protests.
In Quetta, protests have been started by the families of the victims killed in Macch. Thousands of people have gathered and are protesting the brutal killings and have refused to call off their sit-in till Prime Minister Imran Khan visits them.
Their families are protesting on the Quetta-Sibi highway since Sunday in freezing temperatures demanding justice and the arrest of the culprits. The protesting relatives of miners have also demanded the resignation of the Balochistan government.