Regional connectivity imperative for economic empowerment: NA Speaker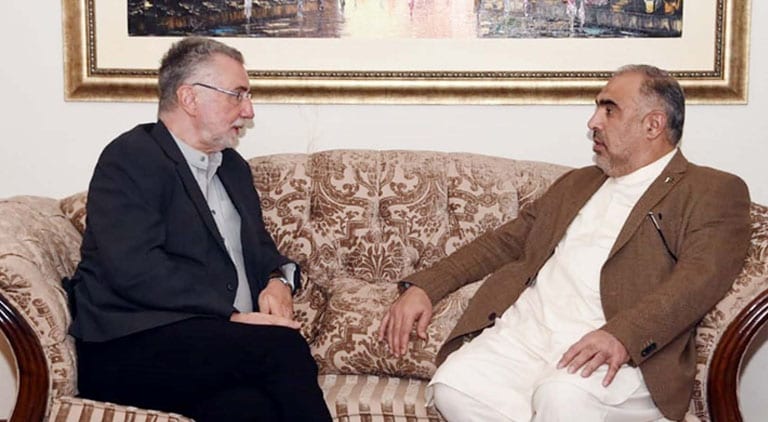 ISLAMABAD: National Assembly Speaker Asad Qaiser stressed that regional connectivity is imperative for economic empowerment and regional security.
He underlined that China-Pakistan Economic Corridor (CPEC) is the flagship project that will connect Pakistan with other regions and now its time to strengthen the trade relations especially with central Asian countries.
He stated that Pakistan has opened the doors for engaging at regional and global level to enhance its economic ties and play pivotal role for economic development.
He was speaking to the delegation from Friedrich Ebert Stiftung (FES). The delegation include Country Director Dr Jochen Hippler, Programme Coordinator Abdullah Dayo and Damian Jansher Chatha.
Mr Jochen Hippler said that FES is working to promote the image of Pakistan at global level and in this regard a book will be published soon with title 'Global Pakistan'.
Mr. Abdullah Dayo shared that a working paper is in process that will carry out research on regional connectivity and economic empowerment for Pakistan.
It was mutually agreed that a regional conference will be organised that will engage think tanks, experts, stakeholders and ambassadors from central Asian countries.
The conference will focus on the role of Pakistan in regional connectivity through CPEC and to strengthen economic ties with central Asian countries.
Mr Hippler presented a recent publication to speaker entitled 'Decade of Democracy in Pakistan 2008-2018. He also shared another publication entitled 'Growth and Inequality in Pakistan'.