Rangers, police nab 15 suspected criminals in Karachi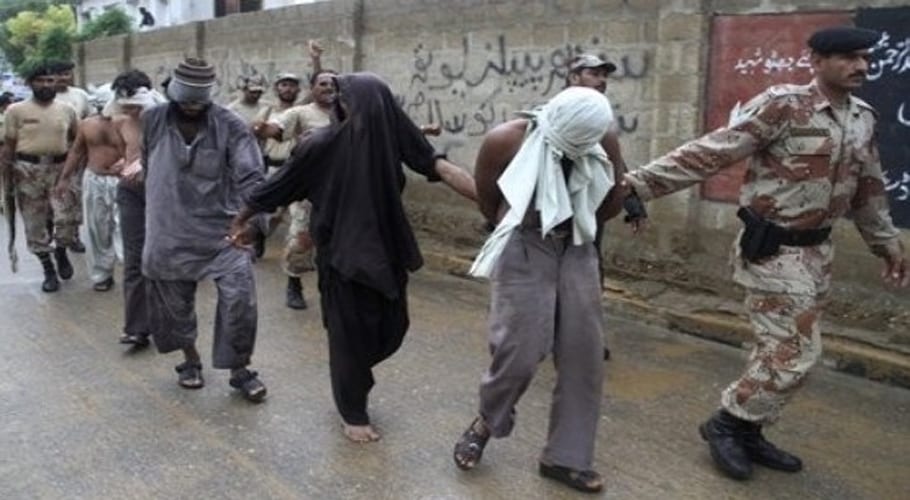 KARACHI: Pakistan Rangers Sindh conducted joint operations with city police on Sunday apprehended 15 suspected criminals from different parts of the city.
According to a press release issued by the paramilitary force's spokesman, the paramilitary force and police nabbed 15 criminals, including notorious dacoits, and drug peddlers during their targeted operations.
On a tip-off, the rangers and police carried out raids including  Lyari's Karli and Baghdadi, Shah Faisal Colony, Saeedabad, North Nazimabad and Baloch Colony and arrested 13 street criminals.
The arrested criminals were identified as Shakir, Hassnain, Mukhtar, Muhammad Akbar, Amanullah, Asir Qasmi, Muhammad Hasnain, Talha, Nabeel, Muhammad Iqbal, Umar Farooq, Anwar and Muhammad Waqwas.
Separately, during targeted raids in Maripur and North Nazimabad the law enforcement personnel detained a drug peddler, Dawood Khan and a weapon dealer,   Muhammad Aqib.
The law enforcement authority claimed to have recovered weapons, looted items and drugs from the possession of the accused. They were handed over to the local police further legal formalities, the spokesman added.
READ MORE: Rangers, police arrest 15 criminals, including two extortionists