Public pissing is our culture not public kissing: 'Airblue incident' triggers meme fest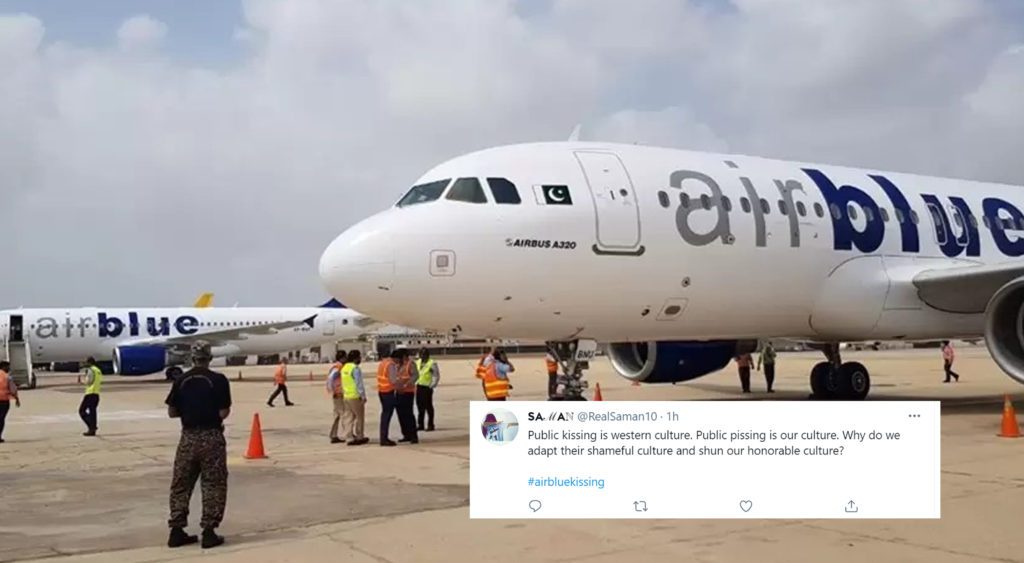 The incident of a couple reportedly kissing on a flight from Karachi to Islamabad flight has divided the internet as netizens commented on social media over the incident.
The incident was reported on May 20th by a passenger who was onboard the same flight. Some users are angry instead of highlighting important issues like Christian girls being raped and Palestine matters,  the Pakistani media is busy highlighting the kissing incident on a plane.
Here are some memes on the 'Airblue incident' that will surely make your day:
Air-host to other Passengers after giving blanket to kissing couple on #AirBlue pic.twitter.com/OqtwTxoiJw

— Junaid Khawar (@jjkhawar) May 25, 2021
AIR BLUE TRENDING I THOUGHT ANOTHER PLANE CRASH 😭😭😭 #Airblue

— bilu 🇵🇸 (@Bilalrants) May 25, 2021
If Shadid Single had a face.#Airblue pic.twitter.com/6cdc0Vja5r

— Junaid Bukhari (@Junaid1829) May 26, 2021
#airblue passenger in 4th row after getting the blanket from the flight attendant

#آئیر_بلو_پہ_جانا_ہے pic.twitter.com/hLrxeUBLp8

— Ali Sheikh (@AliSheikhtweets) May 25, 2021
That couple right now watching people's reaction#Airblue pic.twitter.com/JpMur54tt1

— Butterfly 🦋 (@thoughts_spiral) May 26, 2021
Actual video of the couple kissing in plane. 😂😂#Airblue pic.twitter.com/5CB8YH0DTD

— Ibrar Meraj (@IbRockx) May 25, 2021
Saw #Airblue trending at the top and I was like Ya Allah khair…. but I was surprised to know the reason! Jo hua so hua but to make that a top trend is unbelievably disgusting. Specially given the fact that few days ago Palestine ke liye Israel ko aag laga deni thee ham ne pic.twitter.com/d4gQeRowQa

— Zaki Haider (@mzakihaider) May 25, 2021
Air Blue bookings are full after the incident

— Mubashir Zaidi (@Xadeejournalist) May 25, 2021
Othe passengers starring at the couple kissing in the plane be like.#Airblue pic.twitter.com/c3e8Wn9TBe

— brown boy (@salmanwasimkhan) May 25, 2021
#Airblue
Guy on seat no. 5 : pic.twitter.com/K6F01ah5Wc

— ابرار ابنِ عزیز (@ballisays) May 25, 2021
What actually happened today 😅😅👇#Airblue pic.twitter.com/AZ5ms37Eu1

— Madie_021🇵🇰🇦🇺 (@Hammad26354841) May 25, 2021
Nothing but papies from #airblue flight pic.twitter.com/hwQxHPhAzb

— س (@patanahiq) May 25, 2021
Air Hostess gives blanket to kissing couple in #AirBlue flight.

Other Passengers in flight:- pic.twitter.com/a3hlSMqhEk

— Junaid Khawar (@jjkhawar) May 25, 2021
Public kissing is western culture. Public pissing is our culture. Why do we adapt their shameful culture and shun our honorable culture?#FlightKiss #Airblue

— Parkash Heerani (@parkashpakistan) May 25, 2021
A husband would beat his wife to death, but it won't effect anyone. But now a couple was caught showing love in #airblue . So, everyone is suddenly disturbed. Nice approach

— Fatma Ch (@FatmaCh46283671) May 26, 2021
Scenes outside Airblue booking offices Now.
Almost full !#Airblue pic.twitter.com/X471391u2O

— Junaid Khawar (@jjkhawar) May 25, 2021
Really shocking news Husband & Wife traveling on a Pak Airlines #Airblue were caught kissing causing uproar & arrest.

More shocking news is how come Pilot fly the plane as his final semester is still not cleared.

Even more shocking news is that we still have planes.

Checkmate!

— 🇵🇰Zaidu🇵🇰 (@TheZaiduLeaks) May 26, 2021
Live scenes for #airblue flight pic.twitter.com/C81M6tyazx

— Name cannot be blank (@djungelskong) May 25, 2021