PSX increases by 506 points to regain 45,000 points level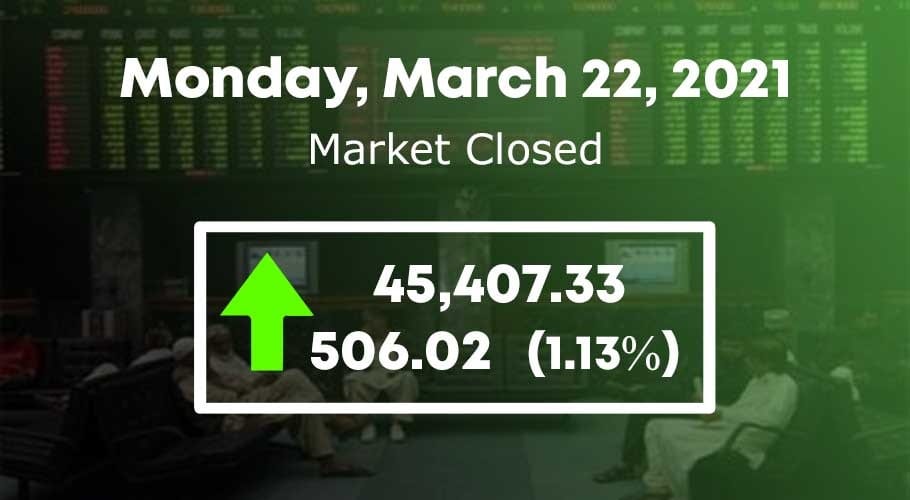 KARACHI: The Pakistan Stock Exchange (PSX) witnessed an upward trajectory on the first day of the week as the KSE-100 index regained the 45,000 points mark.
The benchmark KSE 100 index gained 506.02 points (1.13%) and closed at 45,407.33 points. The bourse reached its highest point in intra-day trading at 45,465.13 points and lowest at 44,735.59 points. The total volume of share was 277.36 million valued at Rs14.857 billion.
The lowe bench KSE 30 index gained 272.96 points (1.48%) and closed at 18,479.633 points. The total volume of shares were 90.869 million. The KMI 30 index increased by 1,295.15 points (1.75%) and closed at 75,111.70, while All-Share Index gained 331.12 points (1.08%) and closed at 31,081.32 points.
The market leader was Byco Petroleum (BYCO 0.91%) which traded 68.673 million shares respectively. This was followed by Pakisan Refinery Ltd (PRL 4.98%), Hascol Petroleum (HASCOL 9.54%), and TRG Pakistan (TRG 2.85%). The total value of scripts was 40.90 million, 38,583 million, and 33.890 million respectively.
The stock market has seem a gradual recovery in the past week after uncertainty increased due to the rising number of coronavirus cases in the country which could impact businesses. The last week concluded on a positive note as investors looked for shares for value buying.
The State Bank of Pakistan (SBP) maintained the status quo and left the benchmark interest rate unchanged at 7% for the next two months.
On the economic front, Pakistan's current account deficit narrowed to $50 million in February 2021 as compared to the deficit of $210 million in January and $652 million in December 2020.
The current account balance in February 2020 witnessed a deficit of $197 million, according to a data released by State Bank of Pakistan (SBP) on Monday. On average, the current account remained in a surplus of $881 million during July-February (2020-21), against a deficit of $2,741 million during same period of FY20.