PSL-6: PCB announces match officials for remaining 20 matches
LAHORE: The Pakistan Cricket Board (PCB) has announced match officials for the remaining 20 matches of the sixth edition of the Pakistan Super League (PSL).
According to PCB, the remaining 20 matches of PSL -6 will be played at the Sheikh Zayed Stadium, Abu Dhabi from 9 June to 24 June.
PCB  in a statement said, "Pakistan's senior-most umpire Aleem Dar who is also one of the most distinguished members of the ICC Elite Panel of Umpires will join six members of the PCB Elite Panel of Umpires for Abu Dhabi leg."
PCB match referee elite panelists Ali Naqvi, Iftikhar Ahmed, Mohammad Javed Malik, and Muhammad Anees will lead the playing control teams in Abu Dhabi. The six local umpires are Ahsan Raza, Asif Yaqoob (PCB Umpire of 2020), Faisal Khan Afridi, Rashid Riaz, Shozab Raza, and Zameer Haider.
The first match of the Abu Dhabi-leg between Lahore Qalandars and the 2016 and 2018 champions Islamabad United will be umpired by Aleem Dar and Rashid Riaz, while Shozab Raza will be the third umpire and Faisal Afridi, the fourth umpire. Muhammad Anees will be the match referee.
The June 24 final will be umpired by Aleem and Ahsan with Asif the third umpire. Rashid will be the fourth umpire while Anees will be the match referee.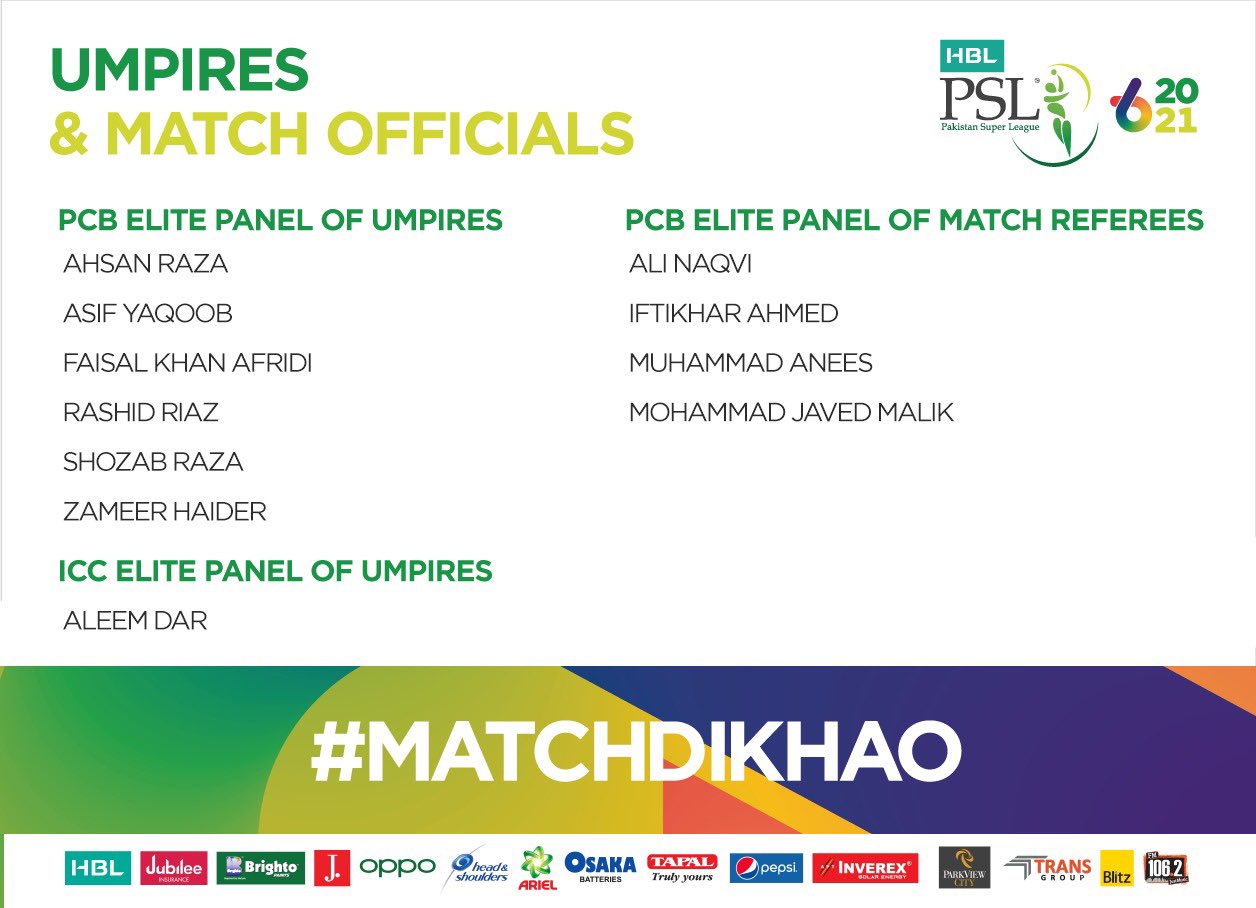 Earlier, PCB had said the remaining matches of the sixth season of the Pakistan Super League (PSL) will resume from June 9 while the final will be held on June 24.
The announcement came after a series of meetings confirmed the PCB was unable to start the tournament from June 7. The tournament will be played at Zayed International Stadium in Abu Dhabi, despite speculation in recent days that it was being moved to Sharjah.
The compressed schedule means there will be as many as six double-headers, with the early games starting at 5 pm Abu Dhabi time, and the evening matches at 8 PM local time. All the hurdles related to the broadcast crew have been cleared as Indians have been allowed to be part of the tournament.
The matches will start at 8 pm UAE time (9 pm PST). The first match on the day of the doubleheader will start at 5 pm UAE time (6 pm PST). Meanwhile, on the day of the doubleheader, the second match will start at 10 PM (11 PM PST).
Sindh's information minister Nasir Hussain Shah has also revealed that everything has been sorted out in Abu Dhabi and the league will start in five. He wished good luck to PSL organizers.
The matches were initially planned to be played from June 1 in Karachi but were suspended due to a spike in coronavirus cases in the country last month. The PCB planned to move the matches out of UAE and but the plans did not materialize as players faced visa delays, permission for chartered flights and strict quarantine protocols.