Police nab three gang members involved in house robberies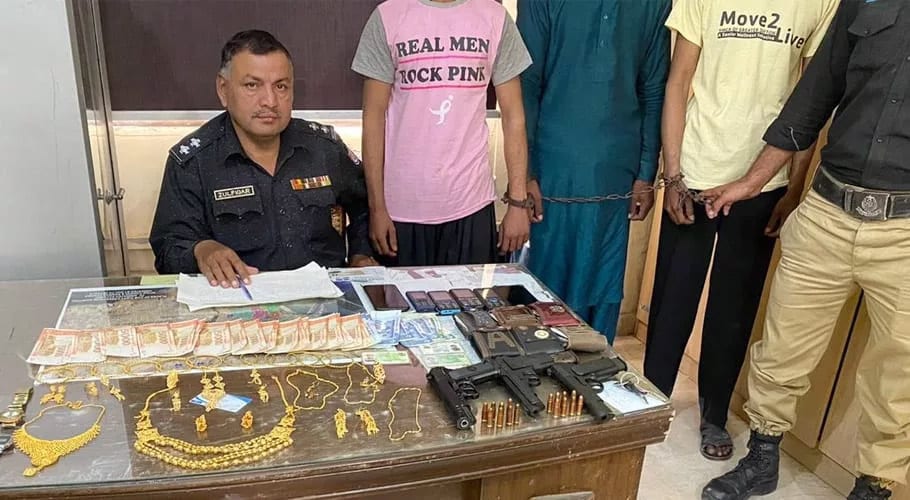 KARACHI: Police on Tuesday claimed to have busted a gang of robbers who were involved in carrying out house robberies in several localities of the metropolis.
According to police sources, three robbers from the five-member "robber gang" were arrested in DHA and police teams have been formed to apprehend the two others.
Police sources said the robbery at the bungalow on Defense Phase-II Sunset Street was foiled by the police. Three robbers were looting the family by taking them hostage at gunpoint.
The arrested robbers were identified as Mohammad Ismail, Safdar Ali and Gul Hassan. The three accused have been shifted to the police station for further investigation.
Goods looted from the bungalow including Rs 170,000 cash, gold, jewelery, mobile phones and valuable watches and three TT pistols were also recovered from the possession of the accused.
Earlier, police had claimed to have arrested two robbers in injured condition after an encounter near Karachi's Nipa flyover.
Sources said police officials engaged in an 'exchange of fire' with two alleged dacoits after the personnel tried to stop them while snap checking in the area.
Sources further said the suspects opened fire as the police personnel asked them to stop for snap checking. Returning the fire, police said the two suspects sustained injuries and were later arrested.
The shootout transpired Karachi's Nipa flyover where the personnel signaled two motorcycle riders who resisted and opened fire on the personnel. Police arrested the suspects and recovered weapons, cash and a motorbike from their custody.