PML-N announces full support for JUI-F's Azadi March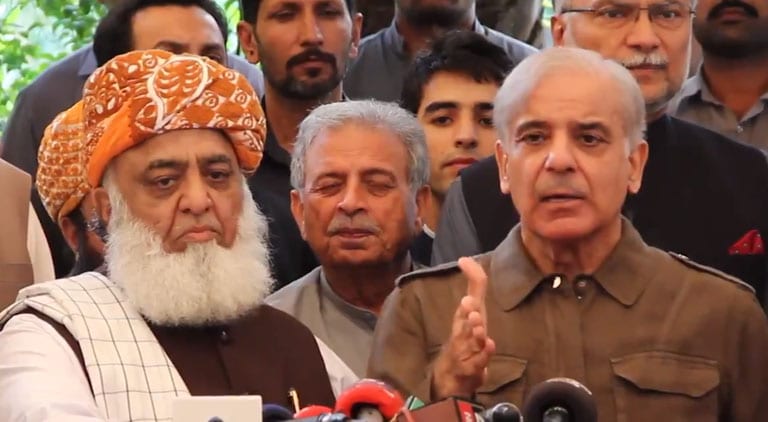 LAHORE: Pakistan Muslim League-Nawaz President Shehbaz Sharif announced on Friday that his party will support and fully participation the 'Azadi March' being held by Jamiat Ulema-e-Islam (JUI-F) chief Maulana Fazlur Rehman.
Addressed media after meeting the JUI-F chief, the PML-N leader said that there will be a rally on Oct 31, in which the future strategy will be laid out as well, and a list of demands by the opposition will be presented.
He said that the country's dire situation is solely due to the ruling PTI government and Prime Minister Imran Khan wants place the burden of his failure upon the institutions.
Shehbaz Sharif said that the party will present its demands as well in the protest on October 31 in the federal capital. He said that the party has received instructions for participation in the 'Azadi March' from incarcerated supremo Nawaz Sharif.
"On October 31, we will ensure our full participation in the march and we will be there in Islamabad to welcome him. We will hold a massive rally to voice our demands and will decide on the next course of action then," said the PML-N president.
He said the country has witnessed the worst performance in all fields in the last year. He reiterated the demand of holding new elections, claiming that if elected into power, the PML-N will bring the economy on the right track within six months.
JUI-F chief said the party have made their final decision to enter Islamabad on October 31. He thanked all political parties for expressing complete support for participation in the march.
He said that all future decisions will be made in joint consultation between opposition parties. He reiterated that the incumbent government was "incompetent" as it was forming committees and still criticising them.
Rejecting an talks of a possible alliance, he said that the government should hand in its resignation if it was serious in holding negotiations.
Shehbaz Sharif stressed that October 27 will be observed in complete solidarity with Kashmiris, and they will raise voice for their rights and for their freedom.
He also rejected the perception that the economy was left in dire straights by the PML-N government insisting that that the economy was in a very healthy state when the PTI government came into power and has destroyed Pakistan.