Over 80% ventilators occupied in Lahore, says Yasmin Rashid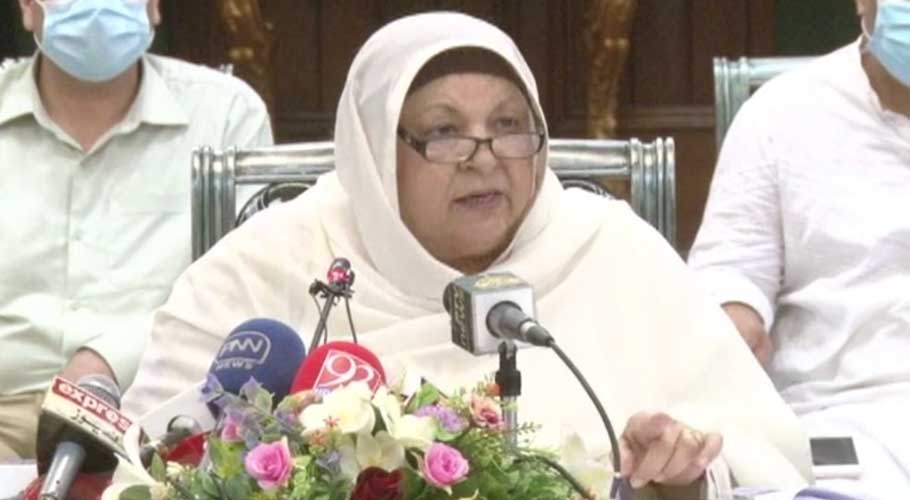 LAHORE: Punjab Health Minister Dr Yasmin Rashid has announced that almost 81.5 percent ventilators in Lahore were occupied while the occupancy rate in Gujranwala was almost 100 percent.
She shared the details while addressing a press conference in Lahore today (Sunday) to update the public regarding the coronavirus situation. "The health department is making all-out efforts to shore up facilities," Rashid added.
Moving on to other cities, the health minister said the ventilator occupancy rate in Multan stood at 88pc, followed by Sargodha at 80pc, Bahawalpur at 52pc, Dera Ghazi Khan at 39pc and Faisalabad at 38pc.
The provincial minister said there were 2,730 beds in district headquarters hospitals (DHQs) in Punjab of which around 600 were currently occupied. "Almost 20 ventilators out of 97 were in use in the DHQs," she added.
However, she claimed that the infectivity rate in Lahore had now been reduced in comparison to other cities, lauding the district administration's efforts to ensure strict compliance with standard operating procedures (SOPs).
She said that the provincial government had provided 50 ventilators to public sector hospitals in Lahore, stressing that there has been no interruption in oxygen, no problem was created.
"We held a meeting with the private sector in Lahore three days ago and received a very positive response. In the private sector, we have 300 high flow oxygen beds in teaching hospitals. We are receiving support of 300 beds and 30 ventilators from the private sector," she informed.
Yasmin Rashid clarified that there was no problem in meeting the province's oxygen demands. "Rawalpindi Institute of Cardiology generates its own oxygen to fulfil its need. The cabinet committee has given us permission to get oxygen generators for the future," she added.