NCP chief Sharad Pawar will meet Narendra Modi today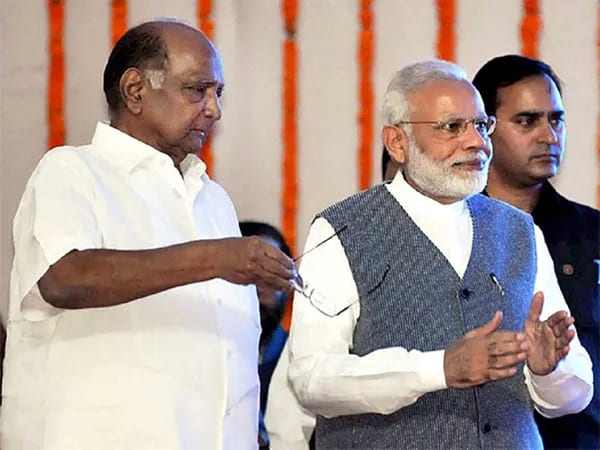 New Delhi: Amid Maharashtra stalemate, Nationalist Congress Party (NCP) chief Sharad Pawar will be meeting Prime Minister Narendra Modi in the Parliament. NCP spokesperson Nawab Malik confirmed that the meeting will take place at 12 pm at the Parliament.
"Nationalist Congress Party (NCP) chief Sharad Pawar will meet Prime Minister Narendra Modi today in Parliament, over the issue of Maharashtra farmers. We will demand some relief for the farmers, from the Prime Minister. The meeting between NCP chief Sharad Pawar & Prime Minister Narendra Modi will be held at 12 pm today in Parliament," Malik said.
The meeting comes just two days after PM Modi, in his address in the Rajya Sabha on Monday praised the NCP for 'not rushing to the well' and creating ruckus in Parliament over issues of disagreement. "Today I want to appreciate two parties, NCP and BJD. These parties have wonderfully adhered to parliamentary norms. They have never ventured into the well. They have made their points very effectively. Much can be learned from these practices," PM Modi said in an address to mark the 250th session of the Parliament. 
Read More: India continues to ban onion exports until Feb 2020
As reported earlier, Pawar's political manoeuvre post declaration of results in Maharashtra has also triggered speculations within the Shiv Sena camp, which has been eagerly waiting for support from the NCP to form a government in the state. On Monday, Pawar met Congress chief Sonia Gandhi to discuss the issue of extending support to Shiv Sena.