Modi lays foundation for flashpoint Hindu temple in Ayodhya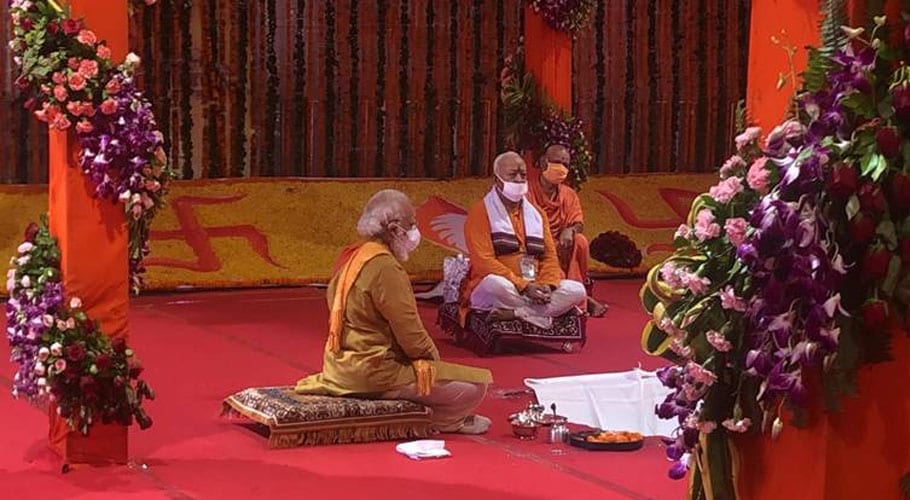 NEW DELHI: Indian Prime Minister Narendra Modi unveiled a plaque on Wednesday to kick off the construction of a contested Hindu temple in the city of Ayodhya on a spot where a mosque was demolished nearly three decades ago sparking deadly riots nationwide.
Modi laid a 40-kilogram silver brick to mark the foundation ceremony of Ram Temple in Ayodhya. Modi is among 175 people present at the ceremony along with RSS chief Mohan Bhagwat, Uttar Pradesh Governor Anandiben Patel and Chief Minister Yogi Adityanath.
Keeping in mind the pandemic, seating arrangements were made in accordance with social distancing principles. The city has been painted yellow while flowers decorated the freshly washed area around a temple on the banks of the Sarayu River.
The Babri mosque stood on the site for almost 500 years until it was demolished by Hindu zealots in 1992. This sparked riots across the country in which 2,000 people mainly Muslims died on one of the worst communal violence.
Devout Hindus believe that Lord Ram was born in Ayodhya some 7,000 years ago but that a mosque was constructed on top of his birthplace in the 16th century. In November, the Indian Supreme Court after a legal battle lasting decades awarded the site to Hindus, giving Muslims another location to build a new mosque.
This was a victory for the BJP but marked another step in Modi's agenda to turn officially secular India into a Hindu nation and marginalising 200 million Muslims. The day also marks one year since Modi revoked the semi-autonomous status for Kashmir and annexed the restie region.
Although two prominent Muslims who experienced the riots attended the ceremony in a gesture of reconciliation, an influential Muslim non-government body said the Babri Mosque will always be one.
"Usurpation of the land by an unjust, oppressive, shameful and majority-appeasing judgment can't change its status," said the All-India Muslim Personal Law Board. "No need to be heartbroken. Situations don't last forever."
Ayodhya is crowded by thousands of people with few wearing masks against the coronavirus as devotees thronged its numerous ancient temples. Event organisers gathered soil from more than 2,000 holy spots and water from over 100 rivers for use in prayers at the start of the building work, while a devotee from southern Tamil Nadu state has donated two bricks of precious metal.