Medium flood at Guddu, Sukkur as water inflow rises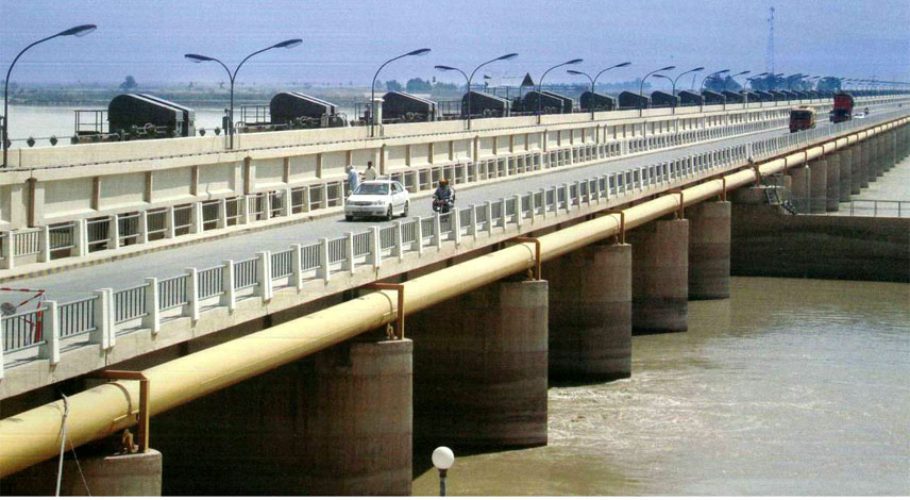 KASHMORE: River Indus attained medium flood level at Guddu barrage on Sunday due to the inflow of water which is expected to increase at Sukkur and Kotri barrages.
According to the control room at Guddu barrage, the inflow of water continues to increase and has crossed 467,000 cusecs.
During the last 24 hours, there has been an increase of 50,000 cusecs in the water at Guddu Barrage. The inflow of water in Guddu barrage was recorded at 467,457 cusecs.
It added that 450,217 cusecs of water have been recorded in Guddu barrage. It said local villagers of riverine areas are migrating with their goods and livestock to safer places.
According to reports, there is a medium flood at Guddu and Sukkur Barrage in Indus River. More than 450,000 cusecs of water are being released from Guddu to Sukkur Barrage.
The flood water has destroyed dozens of villages in riverine areas of Ghotki and Sukkur. The ground connection of dozens of villages in Pano Aqi has been cut off.
The floodwater has spread over thousands of acres of land including Raza Goth and boats are being used for transportation. The floodwater has reached 85% of riverine lands between Guddu and Sukkur Barrage.
Meanwhile, there is a continuous rise in water level at Sukkur Barrage which has reached 391,000 cusecs. 360,000 cusecs of water are being released from Sukkur to Kotri Barrage. The water level at Kotri barrage has reached 143,000 cusecs.
The Federal Flood Commission says River Indus may attain high-flood level at Guddu on Sunday due to the combining effect of downstream discharges from Taunsa and Panjnad.
According to the daily FFC report, River Indus may also attain high-flood level at Sukkur tomorrow (Monday).  The wet spell is likely to decrease during the next two days.
The prevailing weather situation may result into moderate flash flooding in tributaries of river Kabul and hill torrents of Dera Ghazi Khan Division during the next two days.
Presently, River Indus is experiencing medium flood at Taunsa and Guddu whereas it is in low flood situation at Tarbela, Kalabagh, Chashma and Sukkur.
Flood peaks, presently propagating in the Indus River System, may become violent due to the contribution of torrential flash flooding.
River Sutlej at Head Suleimanki is also flowing in medium flood with falling trend. River Chenab at Marala, Ravi at Balloki and Sidhnai and Kabul at Nowshera are flowing in low Flood. River Jhelum is discharging normal flows.