Justice Mazahir Naqvi's sons sends legal notice to Mian Dawood Advocate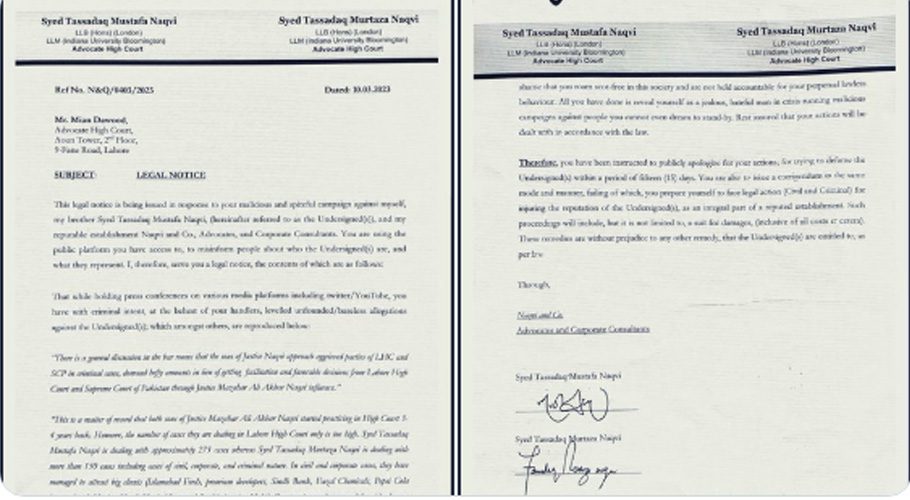 ISLAMABAD: Supreme Court judge Justice Mazahir Ali Akbar Naqvi's sons have sent a notice to  Advocate Mian Dawood, asking him to publicly apologise within 15 days for defaming them or else face legal action.
Also read: Fact finding report of Arshad Sharif's murder case surfaces online
It may be recalled that Mian Dawood Advocate, who happens to be lawyer of Naveed shooter too,  had filed a complaint against Supreme Court Justice Mazahir Ali Akbar Naqvi in the Supreme Judicial Council on charges of misconduct, illegal assets and amassing money with the help of front men.
The complainant pleaded to the judicial council to remove Justice Mazahir Ali Akbar Naqvi from the august office of the Supreme Court of Pakistan.
In the legal notice, copies of which are available with MM News, Sayed Tassaduq Mustafa Naqvi and Sayed Tassaduq Murtaza Naqvi, asked the complainant, Mian Dawood, to publicly apologise within 15 days.
Also read: SC reinstates CCPO Lahore Ghulam Mahmood Dogar
بریکنگ
جسٹس مظاہر نقوی ان کے اہلخانہ کے خلاف الزامات اور کردار کشی کی منتظم کیمپئن چلانے پر میاں داؤد کو لیگل نوٹس بھیجوا گیا
15 دن کے اندر اپنی غیر اخلاقی حرکات کی سر عام معافی مانگی جائے .ناکامی کی صورت میں قانونی کارروائی مقدمات درج کیے جائیں گے pic.twitter.com/1AeeFDopX1

— MM News (@mmnewsdottv) March 12, 2023
"You are also to issue a corrigendum in the same mode and manner, failing which, you prepare yourself to face legal action (civil and criminal) for injuring the reputations of the undersigned, as an integral part of a reputed establishment," the legal notice reads.