JI holds province-wide protests against price hike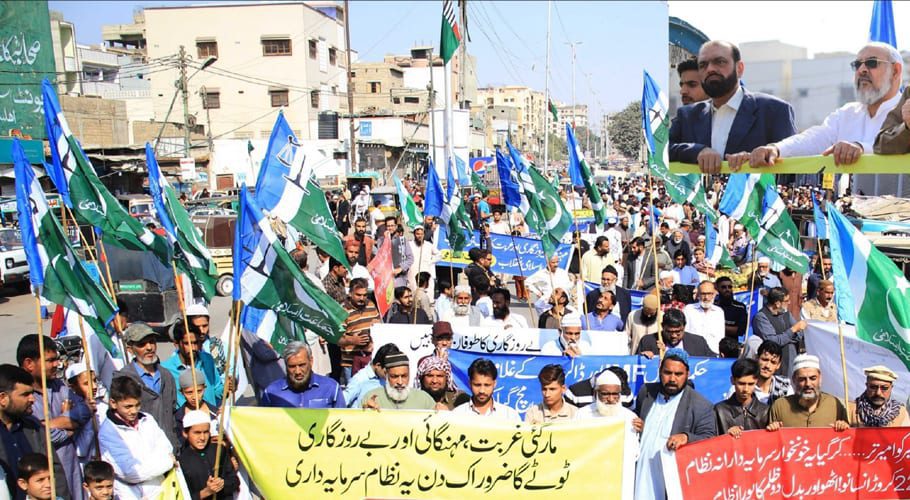 KARACHI: On the appeal of Emir

Jamaat-e -Islami (JI)

Sirajul Haq. protests and demos were held across Sindh against price hike and rising inflation.
Demos and protests were held in Hyderabad, Hala, Mansoora, Larkana, Sukkur, Mirpurkhas, Shikarpur, Nawabshah and other towns, which were addressed by JI provincial and local leaders.
Earlier, clerics in their Friday sermons warned the rulers that the public is not fed up with their growing incompetence.
They said price hike, poverty, joblessness and rising inflation have exposed the false solon of 'change' and 'Naya Pakistan; of the sitting regime. 
They demanded immediate stepping down of the present government and holding fresh elections. Addressing a demo at Hala, Rashid Nasim, JI central Naib Ameer, said that all claims of the ruling party to bring a change, to create a new Pakistan, provide one million jobs, and give 50 million houses have proved a pack of lies.
He said the current government's economic affairs are being run by people of IMF and the World Bank. He said these people are bent to destroy all institutions of Pakistan. He said with the historic depreciation of the Pakistani rupee, these people have drowned Pakistan into a tsunami of inflation.
Condemning atrocities of the Indian government to Muslims he said after Gujarat and occupied Kashmir and now Muslims of New Delhi are braving state-sponsored terrorism and genocide. He said the killer regime of India has proved that the two-nation theory was correct.
He said in Pakistan for the last 72 years, capitalists, landlords, and mafias have held Pakistani people their hostage. Due to poor economic policies of the present regime lives of citizens have made a living hell.
Speaking on the occasion, JI Sindh Naib Ameer Mumtaz Hussain Saha said that the rulers have proved that they have no mercy for the poor people of Pakistan and they are raising prices of electricity, gas, petrol and all daily-use commodities blindly.
He said the nation should now support the Jamaat-e-Islami so that the country's economic development could be ensured, problems of masses resolved and Pakistan is turned in an Islamic welfare state and a prosperous country. 
Another JI leader Hafiz Nasaruallah Aziz said that the rulers have ruined the lives of poor people through inflation and price hike.
Last year, at least 1300 people committed suicide in Sindh, mainly due to poverty. It has been proved beyond doubt that the present rulers want to suck the blood of poor masses, he said.
He said the rising inflation and poverty are spreading disorder and anarchy in our society, which is actually the main agenda of Western NGOs, who use the current rulers as their puppets.
He urged that Ulema and all religious parties must work together to help Pakistan get rid of inflation and price hike.
Addressing a demo in Larkana, Jamaat e Islami leader Abdul Hafeez Arain and Ashiq Dhamrah said that everyone was worried about inflation.
They said the bigwigs of this government are involved in black marketing of wheat flour and sugar but no action is being taken against them.
They said because of inflation and price hike, the whole Sindh has depicted the picture of famine-hit Thar. They said not only the common man is worried about how to feed their children, but now the industrial sector is facing a nosedive.
In Sukkur, addressing a protest demo, JI leader Allama Hizbullah Jakhero said that the rulers are drone striking the poor people with inflation and price hike. A 200% increase in rates of daily-use commodities has broken the back of poor people.
Small businesses are being closed down everywhere. Is this the promised 'Naya Pakistan' of Imran Khan, he asked.
At Gharo, a JI protest was organized on the Main National Highway against the rising inflation and unemployment in the country, where participants chanted slogans against the government.
Speaking on the occasion, leaders of the Jamaat-e-Islami leaders said that the present government has robbed bread from the children of poor families.