How many telefilms are releasing this Eid-ul-Azha?
Besides the barbecue, Eid is incomplete without movies and telefilms. Over the past few years, Eid telefilms have picked up where writers have delved and played with rom-coms, dramas, and thrillers.
So, this time too, the drama industry brings some entertaining and exciting telefilms for the audience this Eid-ul-Azha. So we short-listed seven telefilms you can watch this Eid in the comfort of your home with your family:
Teray Pyar Mai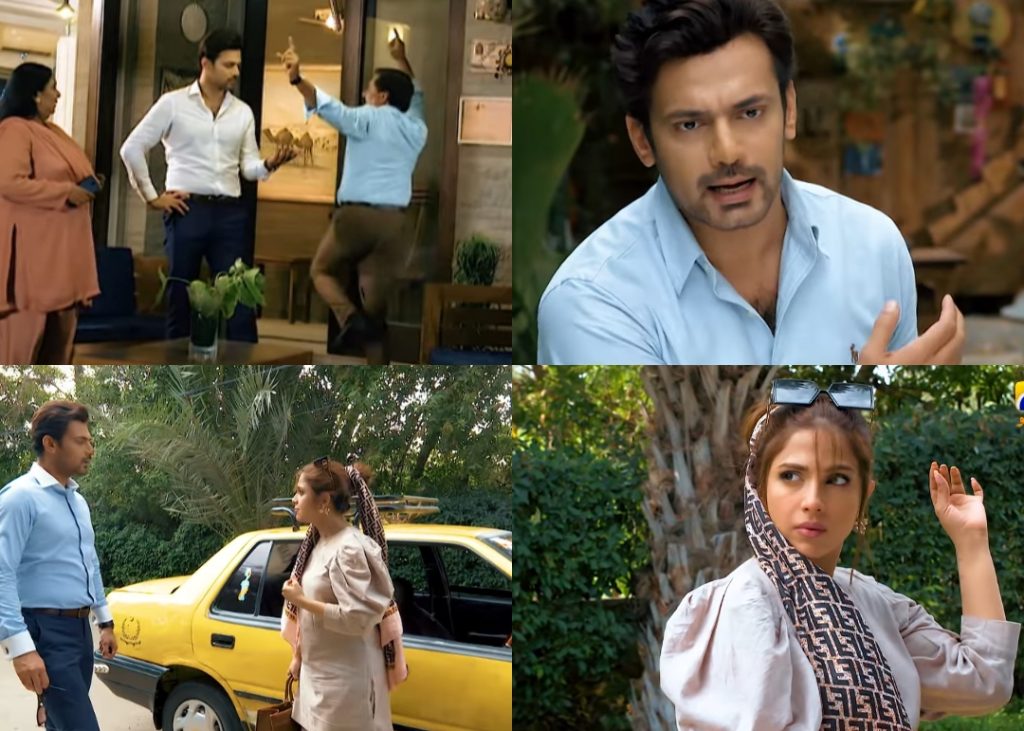 Geo's Eid telefilm is a rom-com, starring Sonya Hussain and Zahid Ahmed together in new roles, it is a TNI Productions' Presentation, the writer of the telefilm is Misbah Ali Syed and it has been directed by Mohammad Iftikhar Iffi. The cast also includes Maham Aamir, Fariha Jabeen, Rashid Farooqui, Samina Ahmed. So far, Geo has just posted the teaser of one telefim.
Aik Anaar Do Beemar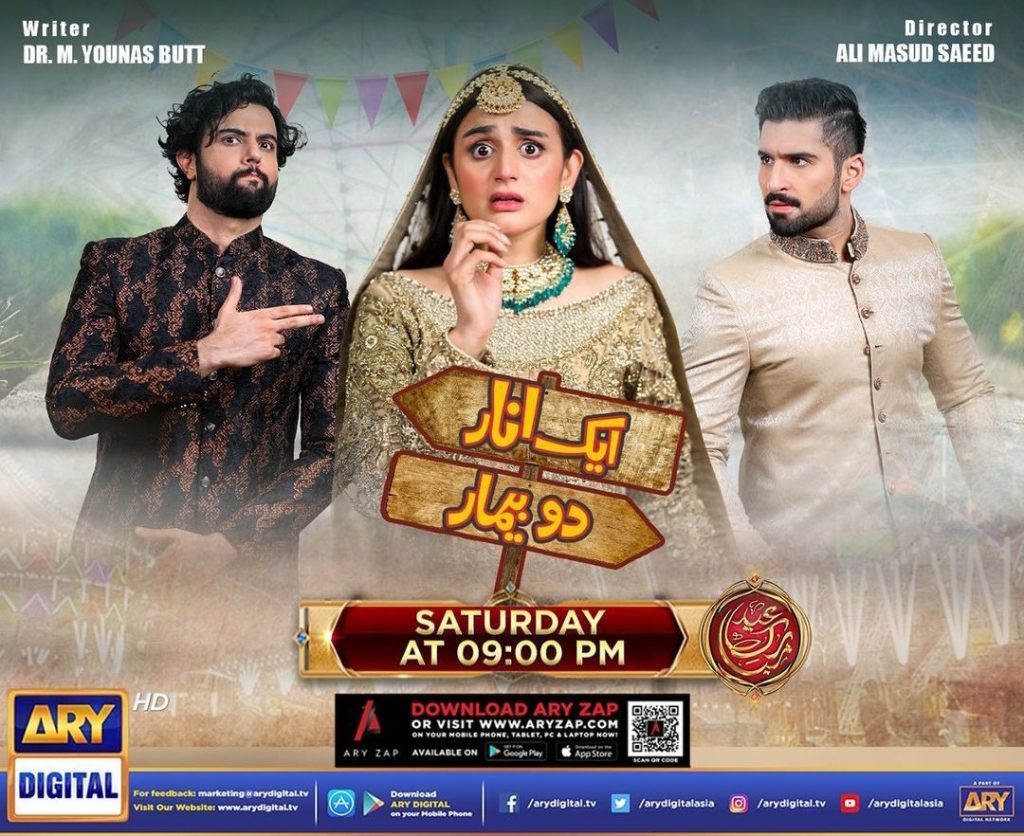 Aik Anaar Do Beemar is Ary Digital's Telefilm which has been written by Dr Muhammad Younis Butt and directed by Ali Masud Syed. The cast of the telefilm includes Hira Mani, Muneeb Butt, Noor Hassan, Shabir Jan and Seemi Pasha. It's a romantic comedy telefilm.
Bhoot Bakra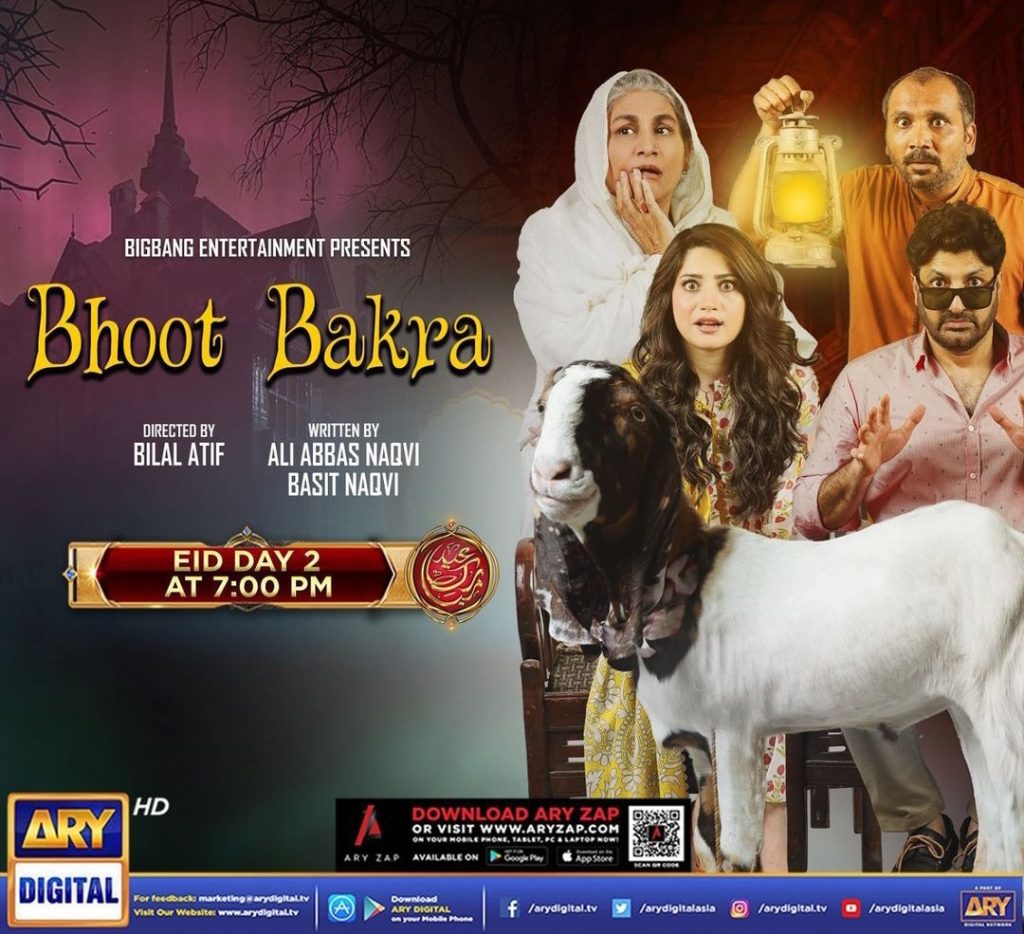 Bhoot Bakra is another Ary Digital's Telefilm which has been written by Ali Abbas Naqvi and Basit Naqvi. The telefilm is directed by Bilal Atif. It's a Big Bang Entertainment's Production. The cast includes Neelum Muneer, Syed Jibran,Gul e Rana and Muhammad Ahmed.
Full Fry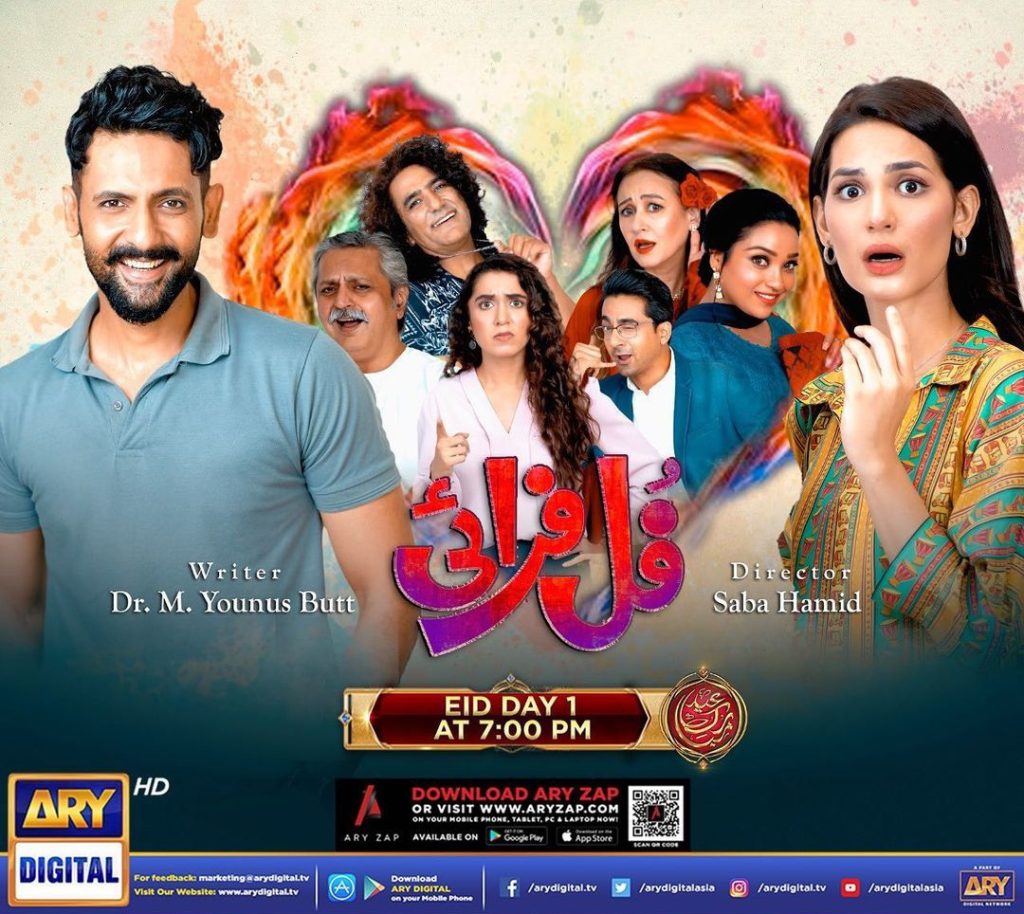 Full Fry is a telefilm which will air on ARY Digital. Directed by Saba Hamid and written by Dr. Muhammad Younis Butt, the drama features Mohib Mirza, Madiha Imam, Ali Safina, Uroosa Siddiqui, Ayesha Toor and Rubya Chaudhry. 
Chaand Si Dulha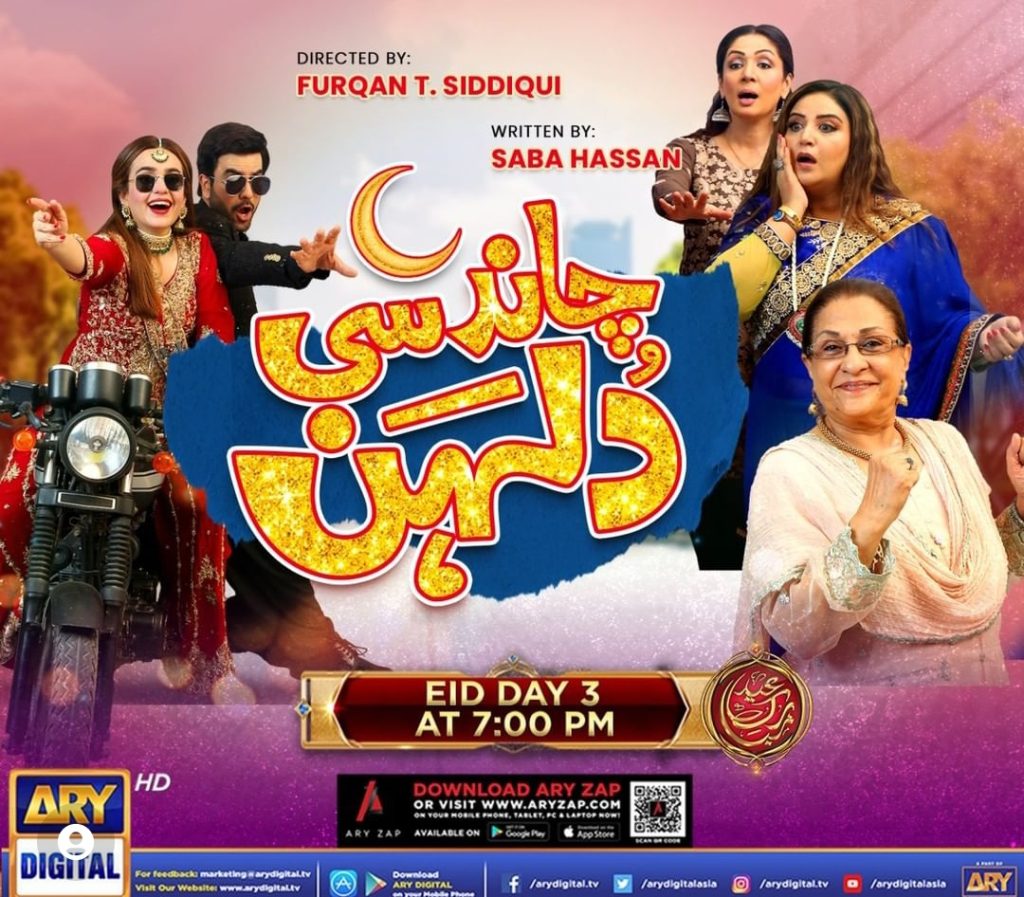 Chaand Si Dulha is a telefilm, yet another project of Ary Digital which has been written by Saba Hassan and directed by Furqan T Siddiqui. It includes Samina Ahmed, Saima Qureshi, Sumbul Iqbal and Junaid Khan in the cast. 
Chal Dil Mere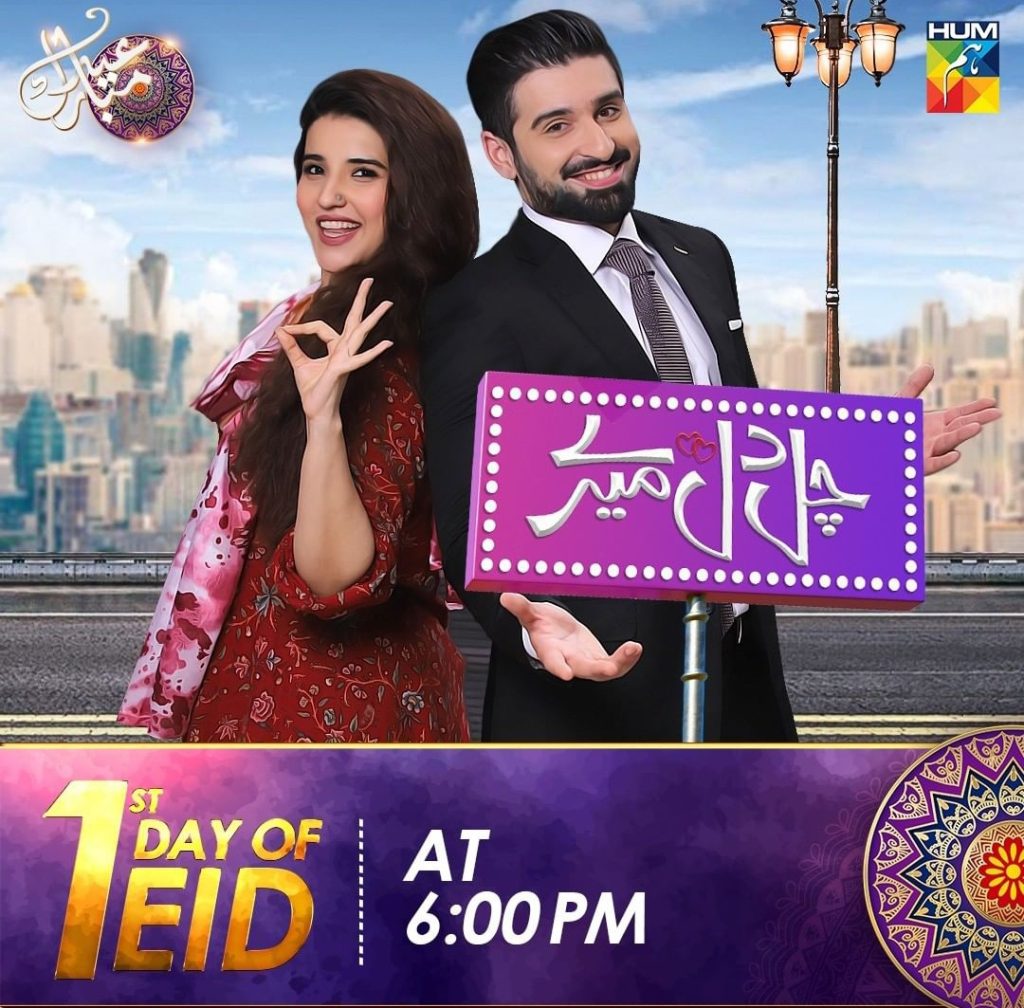 Chal Dil Mere is a Hum TV'S telefilm that is a romantic comedy tale. It is a Moomal Entertainment production. The cast includes Hareem Farooq, Seemi Pasha, Fazila Qazi, Behroze Sabzwari and Muneeb Butt. 
Ghapla
Ghapla is another comedy telefilm by Hum television network. The cast includes Hina Dilpazeer, Saifee Hassan, Shamoon Abbasi, Asad Mumtaz Khan, Sumaiya Baksh and Mira Sethi. It is written by Fasih Bari Khan under the banner of Momina Duraid Productions.