Have you tried Dhoraji's delicious Ice Cream Thali?
You don't need an introduction to food thalis, but mention an 'Ice cream Thali' and it is sure to elicit 'A what?' But we assure you, it does exist and it tastes good.
A shop in Karachi's Dhoraji area has come out with a new concept called 'Ice Cream-Thali', an ice cream platter just like the usual 'Thali' served with a variety of food items.
The items on the platter include chocolate, strawberry, pistachio, Kulfa and Karachi's favourite Gola Ganda. The idea is to give a meal like a feel, said the owner of the Ice cream shop, while talking to MM News.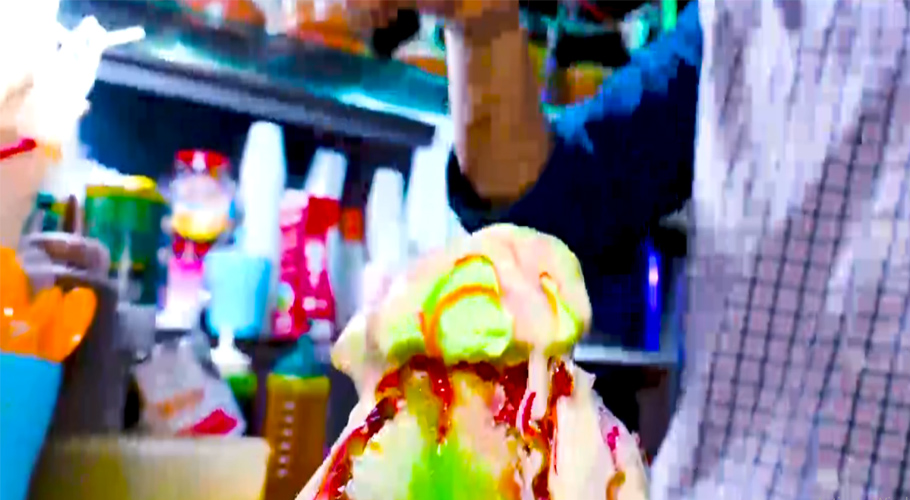 A bowl of Gola Gands is made on which mango ice cream is poured with biscuits and bunties are placed," the owner said, adding that they also add several dry fruits in the platter. The shop is serving this 'Ice Cream Thalli' at price of Rs500, and it's worth it.
Explaining the concept, the owner said that they have been brainstorming for a product idea at home and the concept of I-Thali struck them. Once the idea was in hand, it hardly took five minutes to design the product, he added.  
Apart from the thalis, one can also have Gola Ganda with stick and ice creams in various flavours such as Chai Pani, Paan, Panipuri, Puranpoli, Misal, Tilgulache Ladoo, Sheer Khurma etc. Those who want to cut down calories also have the option to choose a sugar-free option.