FIA forms JIT to investigate PIA crash in Karachi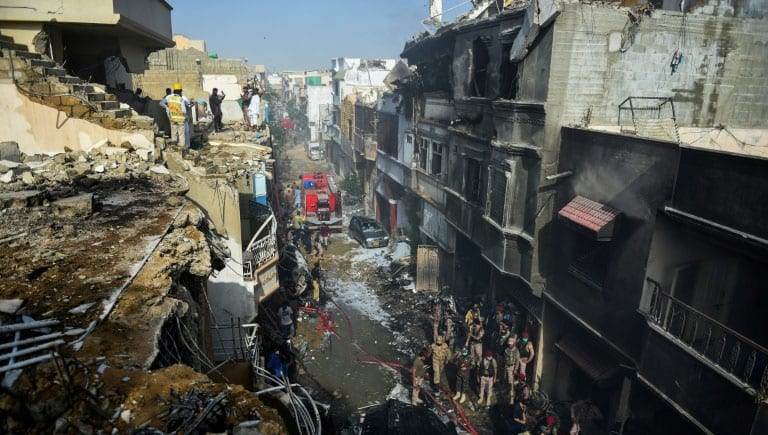 ISLAMABAD: The Federal Investigation Agency (FIA) has formed a Joint Investigation Team to investigate the Pakistan International Airlines (PIA) PK-8303 crash in Karachi.
The team was formed on the recommendations of the Senate Standing on Interior which had taken notice of the plane crash and asked the government to submit a report at the earliest.
FIA's Additional Director Immigration Imran Yaqoob will head the three-member team comprising of Assistant Director Nayyar Tirmizi and Assistant Director Sajid Amin.
The JIT will start investigation at the Lahore airport where the plane departed. It will question PIA and Civil Aviation Authority (CAA) staff members as well as examine the records relating to the ill-fated aircraft.
The Senate Committee had recommended that the FIA Lahore should examine if the engineering branch of PIA at Lahore was being maintained as per the given international standards.
The Committee said that aircraft maintenance system had been deteriorating which was visibly noted over the past few tragic incidents. It also called for detailed maintenance record of the crashed aircraft.
"All aircraft of PIA should be retested, overhauled and the maintenance must be done by PIA and the certificates with responsibility be given before bringing the aircraft on the runway to avoid such incidents in future, following internationally acknowledged air safety rules to make Pakistani airspace safest for flying," the committee said.
A four-member team of the Aircraft Accident and Investigation Board (AAIB) led by Air Commodore Muhammad Usman Ghani has already been investigating the crash. The government will make the preliminary report public on June 22.
A team of experts from France and aircraft manufacturer Airbus also visited Pakistan to conduct an independent probe and collected evidence from the crash site as well as inspected the runway.
The plane, with 99 people on board, crashed in the Model Colony near Jinnah International Airport in Karachi on May 22, killing 97 people while two passengers miraculously survived.