Eid ul Azha-A spiritual and financial exercise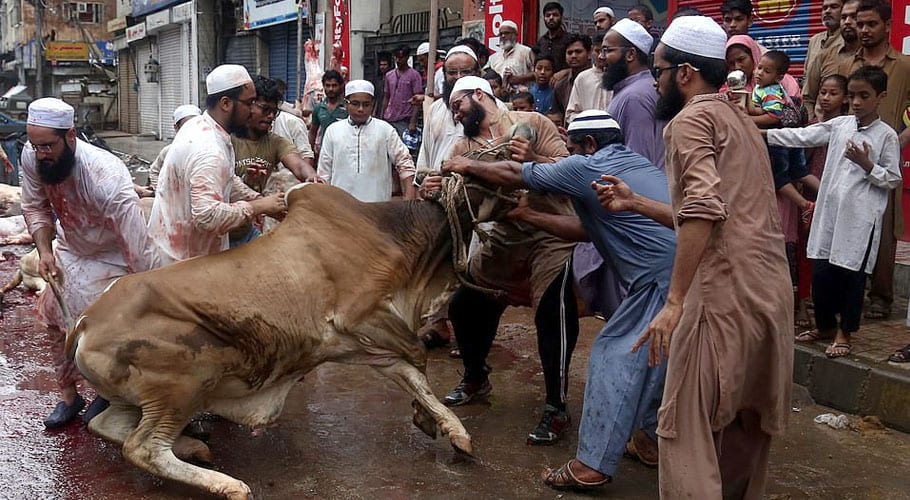 Eid-ul-Azha, an annual Islamic festival, is not just about purchasing animals for mere enjoyment, neither is it all about storing the meat and cooking delicacies for days. There is a lot more to Eid-ul-Azha that is meant to bring out the best virtues in us as Muslims.
Historical background
The historical background of Eid al-Azha is that the Prophet Ibrahim had a dream in which he was sacrificing his young son, Ishmael. Ibrahim, a great believer in God, took his dream literally and wanted to sacrifice his son, who was about ten years old at the time.
But, according to tradition, God Almighty sent his angels and asked him to sacrifice an animal instead of his son. The real sacrifice according to God's planning, was that Ibrahim had to settle his son along with his mother, near Makkah, which at that time was nothing but a vast desert. This kind of settlement was a great sacrifice on the part of this family.
Faith in Allah and submission to Allah's Will
On Eid-ul-Azha, we remember the trial Allah put Prophet Ibrahim and his family through four thousand years ago.
Prophet Ibrahim and his family had
unwavering faith that Allah knows best and they did not question His orders even once, not when Allah told Prophet Ibrahim to leave his wife and young
son in the far-flung desert of Mecca and not even when Allah ordered Prophet Ibrahim to slay his beloved son in His path.
Prophet Ibrahim always submitted to Allah's will without hesitation and Allah always rewarded him for his obedience and faith.
By following the steps of Prophet Ibrahim, Muslims revive the same feeling of faith and submission in Allah's will
A spiritual, mental and financial exercise 
Muslims sacrifice a halal animal every year at the end of Haj, the holy pilgrimage of Muslims, a journey in which Muslims spend the best of their mental, spiritual and physical efforts, time and money.
On the last day of Haj, Muslim pilgrims purchase the best animal they can afford, sacrifice it in the way of Allah, distribute the meat and also celebrate the occasion by feasting upon it.
Muslims around the world slaughters a sacrificial animal in their respective hometowns.
Boost to economy
The economic aspect of the ritual of sacrifice is that the people who can afford to buy an animal do so and make payment to the sellers who are usually shepherds and farmers who make their living by rearing animals to be sold on Eid.
In this way, money flows from the wealthier section of society to the poor. Also, people distribute meat among the poor who get to eat meat as a result of the sacrifice offered by others.
The skin of the animal is usually donated to charitable organizations. In this manner, the people who are less fortunate financially are taken care of.
Lesson for humanity
The holy festive of Eid-ul-Azha teaches us the lesson of humanity and brotherhood.
The sacrifice in the name of Allah shows unending obedience towards Allah.
The meat which is served to the neighbors teaches us the lesson of being one, passionate, humble to one another.
The spirit of sacrifice leads a nation, society and individual to the highest rank of morality resulting in unflinching social prosperity. We truly are the custodians of a noble cause which emphasizes dignity and love of humanity.
Eidul Azha reminds us that we should not hesitate to help others and win the blessings of Allah.
We as a nation should look after the poor and generously extend their charity towards daily wage workers who are badly affected by the COVID-19 pandemic.
Islam is the religion of peace and harmony and we as Muslims need to pledge on this special occasion that we would dedicate ourselves to the service of humanity and also promote the noble cause.