DOW University makes headway researching on local strain of COVID-19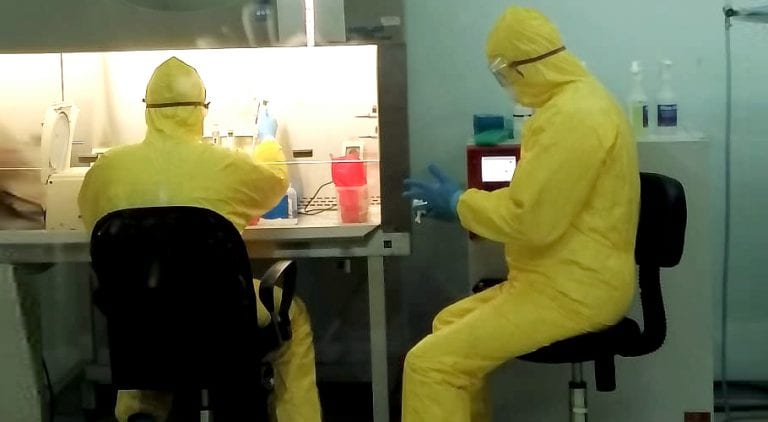 KARACHI: Universities and research laboratories across the country have expedited research on finding a viable cure and treatment for the novel coronavirus – COVID-19 – that had become a global pandemic.
A research team working under the guidance of DOW University of Health Sciences Vice-Chancellor Professor Dr. Muhammad Saeed Qureshi has made headway in this regard. The research by the team has revealed that the COVID-19 strain may be adapting to local conditions.
The team has been working on the genetic makeup of a local strain of COVID-19 and the results will be known soon, however, early results suggest that the novel coronavirus may alter in locally-transmitted cases.
DOW University said the research is being conducted in the BSL-3 virology lab which is fully-equipped for such advanced research and is also conducting free tests for the coronavirus. The research is being conducted in coordination with the International Center for Chemical and Biological Sciences.
The researchers are studying the genome sequence of the virus and the research. while examining the DNA structure of the virus contracted by a patient locally, the researchers observed that the sequence had slight mutations from the original strain that originated in Wuhan, China.
The research team examined the sample of a young boy who contracted the virus locally from a person infected in Saudi Arabia. According to data, fifteen people of the same family had contracted the disease from the same person, indicating that disease spread fast locally. The team will analyse further samples of the virus that arrived from other countries including Syria, Iran, Iraq, USA and UK.
The study of the virus genome sequence is being hailed by experts as an important step towards developing a vaccine and treatment modalities. The lab at Dow University is also one of the first laboratories in Pakistan to conduct PCR testing for Covid-19.