Death toll in Iraq protests rises to 60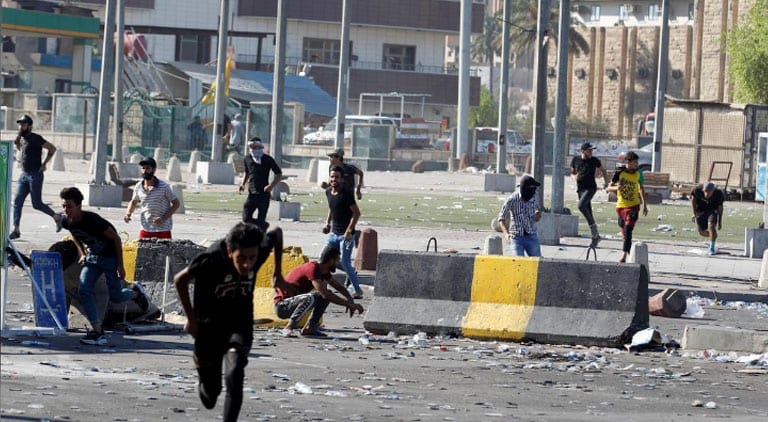 BAGHDAD: Police snipers fired at demonstrators in Baghdad on Friday as the death toll rose to 60 people in three days of violent nationwide protests against government corruption.
Prime Minister Adel Abdul Mahdi called for calm but protesters scorned his promises of political reform.
The country's most influential cleric pinned the blame for the violence on politicians who had failed to improve the lives of the people and ordered them to meet the protesters' demands. Police appeared to be targeting individual protesters on the streets of Baghdad.
The violence is the worst since Iraq put down an insurgency by Islamic State two years ago. The protests arose in the south, heartland of the Shia majority, but quickly spread, with no formal leadership.
Security and medical sources gave a death toll on Friday of 60 killed across Iraq in three days of unrest, the vast majority of the deaths in the last 24 hours as the violence accelerated.
"It is sorrowful that there have been so many deaths, casualties and destruction," Iraq's most influential cleric, Grand Ayatollah Ali al-Sistani, said in a letter read out by his representative during a sermon.
"The government and political sides have not answered the demands of the people to fight corruption or achieved anything on the ground," said Sistani, who stays out of day-to-day politics.
"Parliament holds the biggest responsibility for what is happening."
In his overnight address, Abdul Mahdi pledged reforms but said there was no "magic solution" to Iraq's problems. He insisted politicians were aware of the suffering of the masses: "We do not live in ivory towers – we walk among you in the streets of Baghdad," he said.
Police and medical said the death toll so far included 18 people killed in the southern city of Nassiriya, 16 in Baghdad, four in the southern city of Amara and four in Baquba as unrest spread north of the capital. Deaths were also reported in the southern cities of Hilla and Najaf.
Curfews were imposed in a number of cities. Authorities shut roads into the capital from the north and northeast and were sending reinforcements to Baghdad's densely populated east. Military convoys were being sent to Nassiriya.