All crucial steps being taken to deal with second wave of coronavirus: Dr. Faisal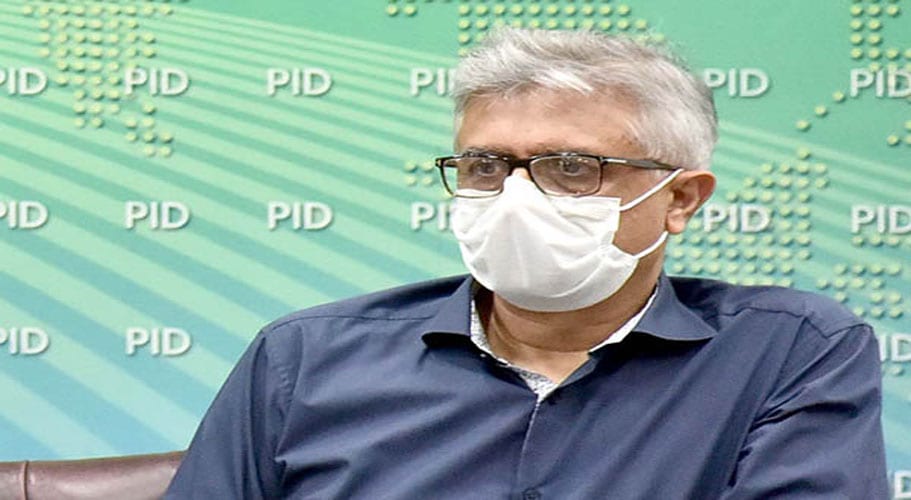 ISLAMABAD: Special Assistant to the PM on Health Dr. Faisal Sultan has said that all curial steps are being taken to deal with the Second wave of COVID-19 to protect people's health.
Talking to the media, Dr. Faisal besides protecting people's lives government implemented measures to mitigate the negative economic impacts of the pandemic.
Faisal Sultan said public safety was of utmost top priority of the government and the success of efforts made against COVID-19 would not be permitted to go to waste.
He warned that the country could be at risk of a second wave of the pandemic outbreak if residents do not adhere to the strict preventive steps to prevent the spread of the COVID-19.
The special assistant explained the further measures to control the disease that the National Command and Control Centre (NCOC) has proposed restrictions on large-scale public gatherings and issued fresh SOPs for marriage halls after the country saw a rise in Covid-19 infections in recent weeks.
The restrictions would be tightened in the cities where the positivity ratio of the virus was high, He added. "We cannot permit people to visit public places and offices without wearing masks and neglect other health guidelines," Dr Faisal mentioned.
The authorities have also set up a hotline so that the citizens could inform the authorities about the violation of COVID-19 SOPs, he said.
Faisal Sultan said that lack of seriousness of the citizens could further raise chances of a dangerous wave of the infection as it has been witnessed that no guidelines have been followed at business centers, shopping malls and other public places.
Meanwhile, the number of coronavirus cases has been rising in the country amid the second wave as the country record the highest number of cases since mid-July.
According to the National Command and Control Centre, Pakistan has reported 2,738 new cases of coronavirus while 36 more people succumbed to the deadly disease in the country. The total number of people infected with coronavirus in Pakistan has reached 368,665 while the death toll has reached 7,561.
At least 868 patients have recovered in the last 24 hours across the country and a total of 327,542 have been cured so far. The number of coronavirus cases in Islamabad is 25,719, Khyber Pakhtunkhwa 43,359, Sindh 159,752, Punjab 112,893, Balochistan 16,642, Azad Kashmir 5,806 and Gilgit-Baltistan 4,494.