CTD picks up 3 suspects as investigation widens in KPO attack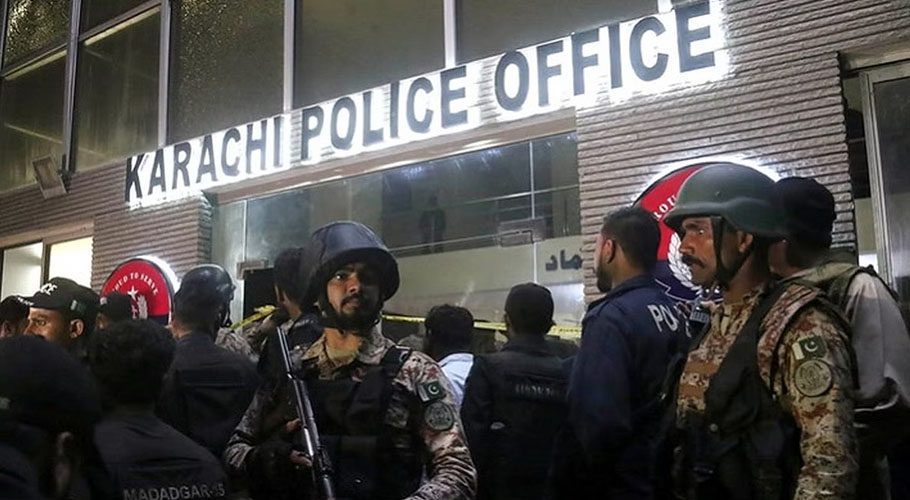 KARACHI: Police and personnel of Counter Terror Department (CTD) are reported to have rounded up three suspects from Sohrab Goth, Khawaja Ajmer Nagri areas as investigation into the Friday's terrorist attack on the Karachi Police Office widened.
Five people including officials of police and rangers embraced martyrdom and 18 others suffered injuries after three terrorists attacked the KPO on Friday evening. The three terrorists were also killed during face-off with the security forces.
During the course of ongoing investigation, security personnel are also reported to have recovered some mobile SIMs from the possession of suspects, who have been shifted to undisclosed location for interrogation.
Multiple media reports suggest the users of more than 100 mobile numbers, who have been declared suspicious, are being traced by police officials. It has emerged that around a dozen numbers are switched off since the terrorist attack. The development comes a day after police arrested 10 suspects in multiple raids.
The city police have registered a case in terrorist attack on the Karachi Police Office (KPO). The case has been registered on the complaint of Saddar Station House Officer (SHO) Khalid Hussain under murder and attempted murders sections of the Pakistan Penal Code (PPC) and multiple sections of the Anti-terrorism Act.