COVID-19: Pakistan reports 4,213 cases, 79 deaths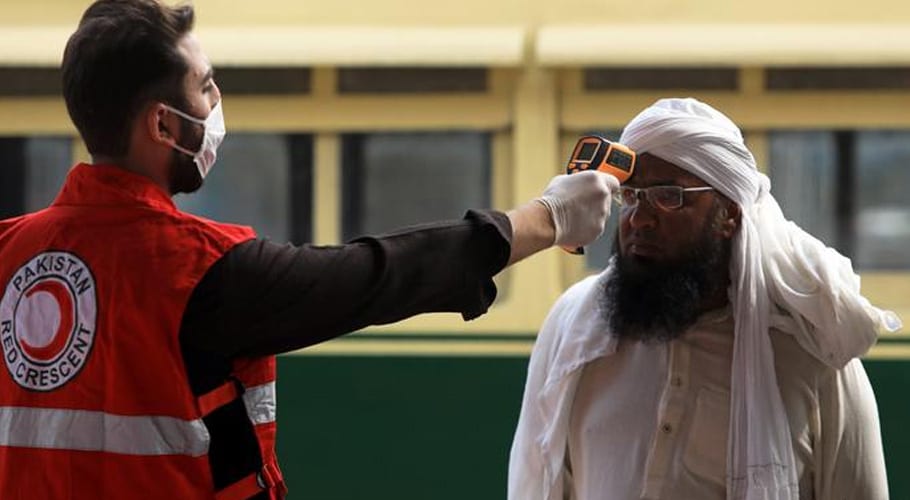 ISLAMABAD: Pakistan reported in marginally dip in coronavirus cases and deaths on Sunday, as the government warns that the virus is spreading fast across the country amid the third wave.
This comes a day after the death toll from the novel coronavirus surpassed the grim landmark of 18,000. According to the National Command and Operation Centre (NCOC), Pakistan reported another 4,213 cases and 79 deaths in the previous 24-hour period day. The national tally of coronavirus cases has reached 834,146 while the death toll stands at 18,149.
The number of active cases has reached 87,953 while there are 5,377people remain in critical condition. There were 45,954 samples were tested in the past day, while the positivity ratio was 9.16%. Overall 728,044 people have recovered from the virus, including 5,842 in the past day.
Punjab remains the most affected region and has recorded 306, 929 cases and 8,572 deaths, while the number of active cases in the province stands at 44,670. Islamabad has recorded 76,902 cases and 691 deaths while there are 12,037 active cases in the federal capital.
The number of coronavirus cases in Khyber Pakhtunkhwa stands at 120,064 and 3,392 deaths while there are 11,769 active cases in the province. Sindh has recorded 285,626 cases and 4,667 deaths while Balochistan has recorded 22,620 cases and 237 deaths.
Minister for Planning and Development Asad Umar, who also heads the NCOC, has said the third wave of COVID-19 is spreading fast and everyone should adopt standard operating procedures to combat the virus.
Talking to a private news channel, the minister said the government is not going to extend lockdown further and no need of imposing more restrictions in this regard.
He said the government is going to import more 6,000 metric tons of oxygen and 5,000 cylinders to meet the rising demand of the hospitals for coronavirus patients. He said almost 100 million people would be vaccinated in Pakistan and it is the duty of the government to protect the lives of the people.
Meanwhile, in a tweet, Asad Umar said the need for caution in Pakistan remains high and the next few weeks are critical. He said globally COVID-19 continues to devastate as daily deaths exceeding fifteen thousand and new positive cases are being reported more than nine hundred thousand in a day.