Bill preventing hatred against army: Unreasonable or sensible?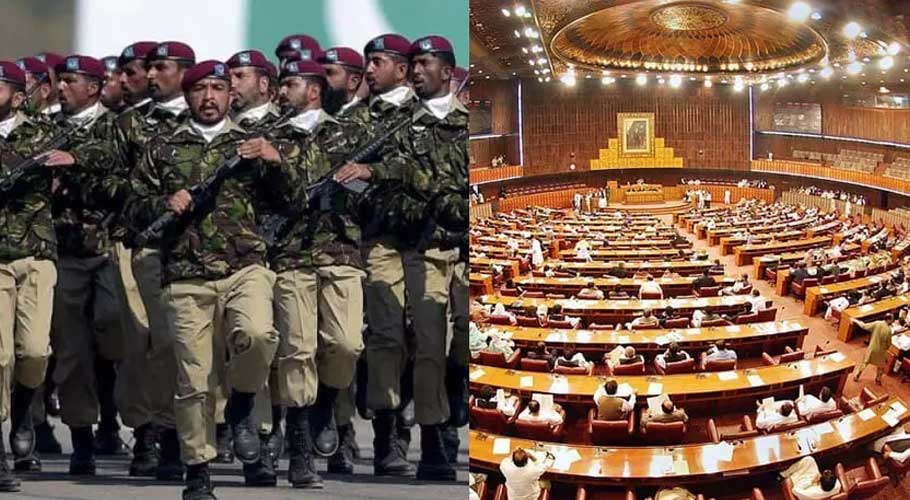 The National Assembly Standing Committee on Interior has approved a bill to make amendments to the Pakistan Penal Code and Code of Criminal Procedure 1898 to take action against those who intentionally ridicule armed forces.  
The move had faced appreciation as well as criticism. The bill to muzzle dissent in Pakistan comes at a time when criminal cases are being filed against journalists and activists. Let's have a look at the proposed bill and freedom of expression in Pakistan.
What's the bill?
Critics of the Pakistan armed forces now face two years in jail as well as fines worth up to Rs500,000, as per the new criminal law amendment bill passed by the National Assembly Standing Committee on Interior.
The amendment, which will be called Section 500-A states: "Punishment for intentional ridiculing of the Armed Forces etc. Whosoever intentionally ridicules, brings into disrepute or defames the Armed Forces of Pakistan or a member thereof, he shall be guilty of an offence punishable with imprisonment for a term which may extend to two years, or fine which may extend to five hundred thousand rupees, or with both."
Freedom of expression
The right to freedom of speech as stipulated in Article 19 of the Constitution is subject to "reasonable restrictions imposed by law in the interest of the integrity, security or defence of Pakistan."
According to a report published by Freedom Network, Freedom of expression in Pakistan has always faced challenges. At least 91 cases, including seven murders of journalists and a blogger, attacks and other violations, against media and its practitioners have been documented in Pakistan over the course of one year – between May 2019 and April 2020.
The report signifies a worryingly escalating climate of intimidation and harassment that is adversely affecting the freedom of expression and access to information environment in Islamic Republic of Pakistan.
Suhail Warraich's book
Journalist Suhail Warraich's new book Yeh Company Nahin Chalay Gi (This Company Won't Run), which is an collection of his Urdu columns, was seized from bookstores within hours of its release, not because of what was in the book, but because of what was on its cover.
A satirical cartoon depicting the politics of Pakistan — Gen. Qamar Javed Bajwa sitting on a chair while an infant Imran Khan plays at his feet. Warraich was asked to delete the social media announcements of his book and told that the title was objectionable and offended some. The move was severely criticized by the citizens for restricting the freedom of expression.  
Civil-military leadership
Civil-Military Relations in Pakistan have always been on a 'Bumpy Road'.  In all democratic countries, an elected civilian government enjoys full control over the military. However, in Pakistan, control over governance has oscillated between the two; a decade of civilian supremacy followed by a decade of military rule.
The reasons for this periodic shuffling are incompetent political leadership, weak political parties and institutions, rising power of civil-military bureaucracy, serious security threats to the country and frequent use of military in aid of civil power.
In the early days of Pakistan, Quaid-i-Azam clearly articulated the role of the military in the following words: "Do not forget that the armed forces are the servants of the people. You do not make national policy; it is we, the civilians, who decide these issues and it is your duty to carry out these tasks with which you are entrusted."
Unreasonable or sensible?
In Pakistan, there is no dearth of admiration for our armed forces. It is manifested when they assist civilian administrations in rescuing victims of earthquakes and floods; and, most of all, when soldiers are martyred while defending Pakistan.
No one would ridicule or defame them when they acquit themselves honourably in their duty to safeguard the nation's territorial integrity. It is only when they stray from that path into the dirty world of politics and business that they render their institution controversial.
Governance and policymaking is not their domain. This country has lived through multiple military dictatorships; and senior security forces personnel, retired and otherwise, run vast corporate concerns. Parliament must not place these areas beyond the scope of fair comment, which is made in the public interest and thereby constitutes a defence against a charge of defamation.