Bail approved: PTI leader Azam Swati released from Jail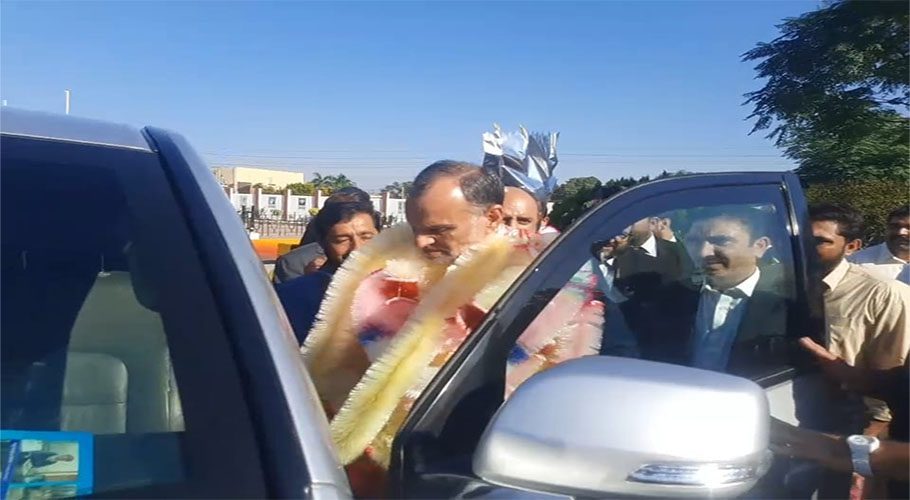 ISLAMABAD: The leader of Pakistan Tehreek-e-Insaaf (PTI) Senator Azam Swati was set free from Adiala Jail after his bail plea was accepted by a local court in Islamabad on Saturday.
The Special Court Judge Central Raja Asif Mehmood released written verdict today about approval of bail to 74 year old Azam Swati. The court directed PTI leader Swati to deposit surety bonds worth Rs one million.
Also read: Islamabad court grants bail to Azam Swati in controversial tweets case
In its written judgement, the court observed that "the charge of instigation for sedition requires more inquiry under the relevant clauses."
It further said "the intention and objective of the petitioner's tweet will prove after recording evidence in the trial." 
Azam Swati was welcomed by a large number of PTI supporters on his release from jail, after which they left for Bani Gala.
سینیٹر اعظم خان سواتی کے خلاف ٹویٹ کرنے پر سائبر کرائم کا مقدمہ، سینیٹر اعظم سواتی مکمل اعزاز کے ساتھ اڈیالہ جیل سے رہا، سینیٹر اعظم خان سواتی قافلے کی صورت میں اڈیالہ جیل سے بنی گالہ روانہ pic.twitter.com/tNJvjBCJuC

— Aamir Saeed Abbasi (@AmirSaeedAbbasi) October 22, 2022
BACKGROUND: It may be recalled that PTI Senator Azam Swati was taken into custody on October 12 by the Federal Investigation Agency's (FIA) cybercrime unit for allegedly making 'controversial tweets' against state institutions, including the army chief.
The charge sheet, presented by the FIA, stated that Swati "used false information" through his official Twitter handle, which is likely to incite any Officer, Soldier, Sailor, or Airman in the Army, Navy or Air Force to mutiny."
Also read: Torture on Azam Swati: PTI Senators write to CJ, demand Suo Motu action