At least 40 injured in grenade attack on JI rally in Karachi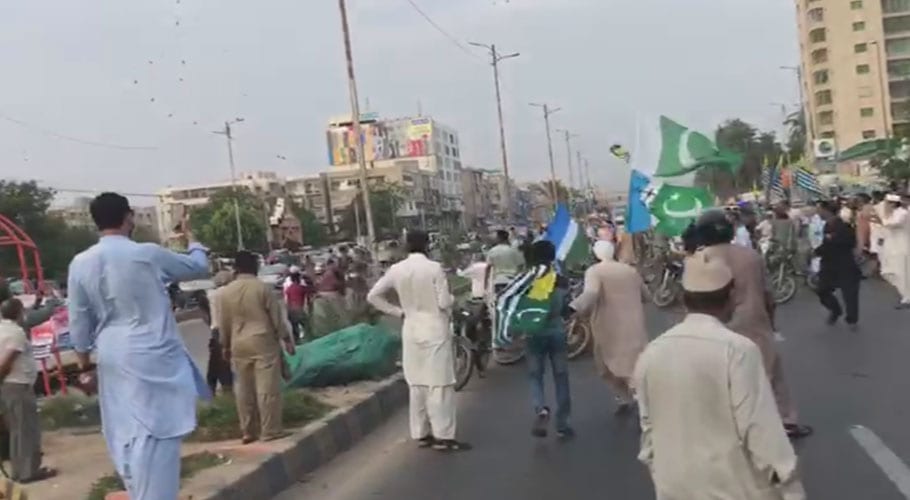 KARACHI: At least 40 people were injured in a grenade attack on a

Kashmir rally organised by Jamaat-e-Islami (JI)

in Karachi's Gulshan-e-Iqbal on Wednesday evening. 
According to details, the blast took place near the main truck that was part of the rally in Gulshan-i-Iqbal area near Bait-ul-Mukarrum Masjid. Of the total, one person was stated to be in critical condition while no deaths were reported. 
Meeran Yousuf, the media coordinator to the Sindh health minister informed that five of the injured were taken to Al Mustafa Hospital, seven to the Jinnah Hospital, 11 to Aga Khan Hospital and 10 to Liaquat National Hospital.
A police spokesperson has informed that some unidentified motorcyclists hurled an RGD-1 grenade at the rally and fled. The explosion shattered the windows of the nearby cars. A heavy contingent of police and Rangers reached the site after the blast.
Sindhudesh Revolutionary Army (SRA) has claimed the responsibility for the attack through social media. The rally was held in connection with Youm-i-Istehsal, which is being observed today (Wednesday) to express solidarity with Kashmiris. 
JI chief Sirajul Haq strongly condemned the attack and termed it a cowardly act. In a statement, he said, "We will not be frightened by such vile acts and will speak up for the people of Kashmir with increased determination."
JI Karachi Ameer, Hafiz Naeem ur Rehman, has strongly condemned the explosion and vowed that the political party will fight for the self-determination right of Kashmiris on every platform.
"Such tactics of India will not push back the nation from its stance regarding the Indian occupied Jammu and Kashmir (IOJK)," Hafiz Naeem ur Rehman added.