Asim Azhar calls his alleged chat with fan 'fake', says not to spread it further
Pakistani singer Asim Azhar has clarified the air of rumours of getting engaged with model Merub Ali and stated that the screenshot floating around his chat with a fan is fake.
The news has gone viral on social media that the singer has been engaged with his friend and fashion blogger Merub Ali. However, the Ghalat Fehmi singer has turned down rumours by calling it fake on an Instagram story, "The screenshot floating around of my chat with a fan is fake."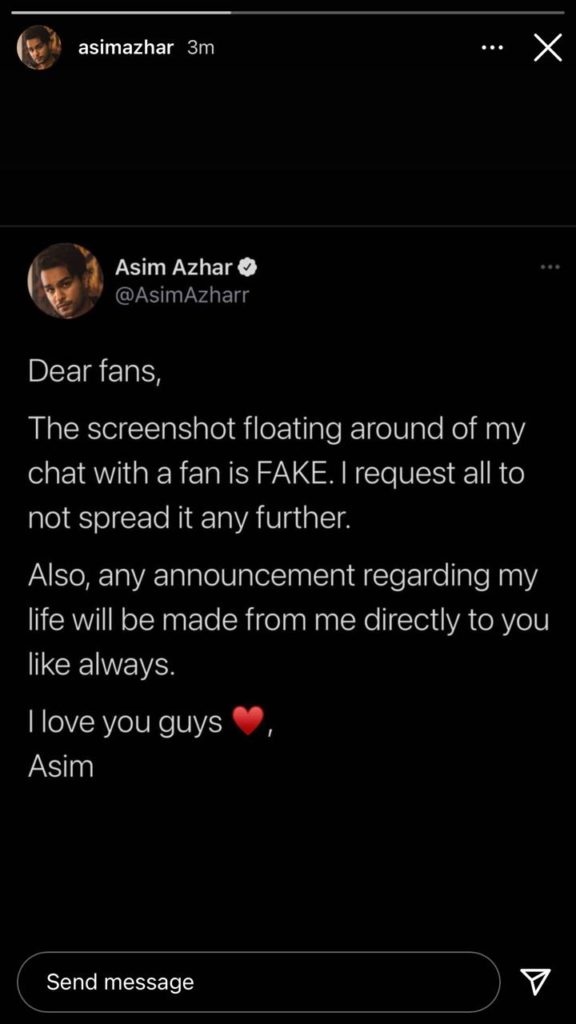 "I request all to not spread it any further. Also, any announcement regarding my life will be made from me directly to you like anyways. I love you guys," Asim posted. Earlier, social media users claimed that they both have got engaged in a private ceremony.
On the work front, Asim Azhar formed a new band now called 'The Asim Azhar Band' and was joined by Strings member Aahad Nayani. Sharing a photo with his band members, Azhar revealed that Nayani will be among the musicians who will bring a new sound to the pop music scene.
Read more: Asim Azhar or Hania Aamir? Whose side are you on?
Nayani, who is among the finest drummers in the county, has also appeared in Coke Studio with Strings. Moreover, just a few days ago, he was also featured in Modern Drummer Magazine. Earlier, he was featured in Rolling Stones Magazine India as well.
Azhar's band photo also sees bassist Kamran Zafar, popularly known as Mannu, who has played with Ali Azmat on 'Klashinfolk' and Mekaal Hassan Band's live sessions. The Yaad singer, however, has not provided any further details about his band and what the focus of their upcoming outings will be.