Ali Azmat faces backlash over his remarks on Noor Jehan
Versatile singer Ali Azmat, who is best known as the lead singer for the influential band Junoon, has been facing backlash over his recent remarks on Noor Jehan. 
The Junoon Se singer recently appeared in a show and talked about Pakistani Music and Arts as part of its culture where he while discussing Malika-e-Tarunnam Noor Jehan said, "In my childhood, Noor Jehan used to sing on a show draped in Saari with big earrings and over makeup on."
He went on to say, "We used to hate that woman, she was a Maai even at that time. Looked like a meatball, she was an old age woman at that time and we used to think that it is not necessary for us to watch it."
Read more: 'Queen of Melody' Noor Jehan remembered on 94th birth anniversary
His remarks about the Queen of Melody triggered many people including celebrities like Asim Azhar who decided to call him out for not respecting the legendary singer. 
If you don't respect the art, the art won't respect you.

— Asim Azhar (@AsimAzharr) October 21, 2021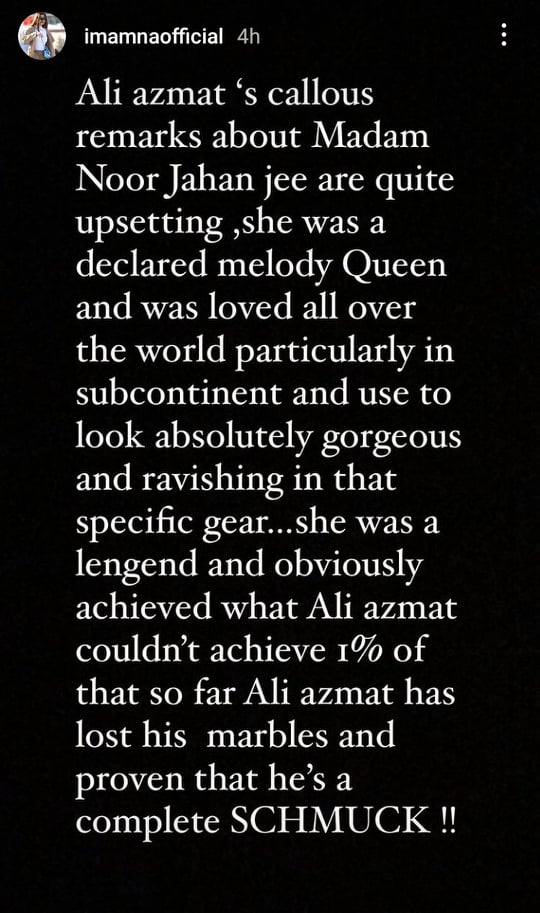 This is not the first time Ali Azmat has made such remarks about senior or fellow artists. The singer is not known for holding back when it comes to letting people know what he thinks. He did the same when in the 2020 PSL anthem with Ali Zafar.