'You can't keep her out of the game', says netizen as Firdous Awan is trending again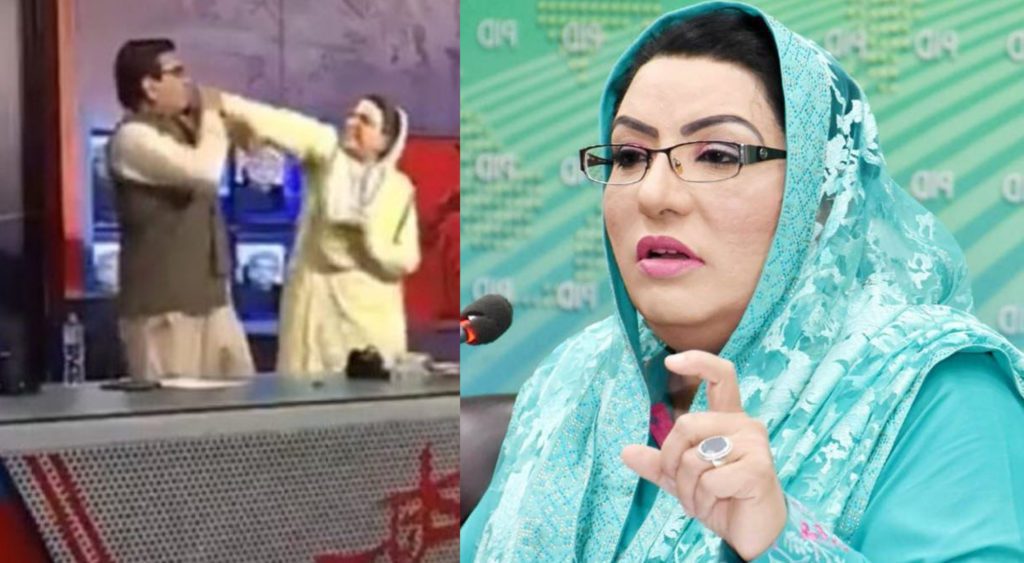 Special Assistant to CM Punjab on Information Firdous Ashiq Awan has become a centre of trending hashtags on social media once again.
She is seen trending on Twitter for so many bizarre reasons and not one of them is related to the nature of the job. Sometimes it's about riding a bike, sometimes it's schooling an assistant commissioner in Sialkot, sometimes it's playing cricket and sometimes you will see her jet skying on national television. Awan will never fail to amuse us.
However, this time, she has landed herself in a heated exchange with PPP MNA Abdul Qadir Mandokhel during a TV programme. According to her, Mandokhel insulted her father and such rhetoric has no place in politics. 
Those who defended her against AC Sonia Sadaf must be defending her again.
I hope her supporters speak some logic now. #FirdousAshiqAwan pic.twitter.com/RFBYHndEGu

— Zohaib Kibzai (@Zohaib_Kibzai1) June 9, 2021
As it can be seen Ashiq Awan rose from her seat and grabbed Mandokhel's collar and then slapped him on the face. This clip was enough reason to make Awan a trending topic and social media and netizens in no time made memes on her. Let's have a look: 
Shame on Qadir Khan Mandokhail for not considering #FirdousAshiqAwan as his equal and not slapping her back equally.

We must observe gander equality at each and every level and occasion.

Alhamadolillah

— Salman Sikandar (@SALSIKandar) June 10, 2021
No justification is valid for such behavior from AC Sonia to Mr Mando Khel .Her behavior is questionable and not justified. It's unfortunate that such people represents us in government. @ImranKhanPTI must take action and must not support her by staying silent

#FirdousAshiqAwan pic.twitter.com/mTB3Nz2qcs

— M.Zahaib Nabeel (@zahaibnabeel) June 10, 2021
Pakistan politics based on criticism totally. But this is the next level of the pathetic act. No matter what was the topic but morally slapping anyone in a live show is disgusting. She is literally playing a women card here if he would have slapped back then?
#FirdousAshiqAwan pic.twitter.com/qqhzgTkoCQ

— Sanaullah Mahsood ✪ (@SanaullahMahsod) June 10, 2021
When you called "Tiddi" to your class mate
*Le her reaction:#FirdousAshiqAwan pic.twitter.com/CMBwRQp4YM

— Zaheer Ahmad (@ZaheerChandia) June 10, 2021
#FirdousAshiqAwan
Apa firdous slap on the Face of Sitting MNA of PPP Qadir Khan Mandokhel
Ley Reaction of Journalist 😂 pic.twitter.com/1G49CxwNBf

— Wahab Khan (@MstrWahab007) June 10, 2021
Same Energy ,Same attitude 🙂 #FirdousAshiqAwan #JavedChaudhry pic.twitter.com/6pdhzWK79o

— MaazHafeez (@maazhafeez03) June 10, 2021
The only one who was enjoying the whole scene and fight without trying to solve it out in live show 🤷‍♀️#FirdousAshiqAwan pic.twitter.com/oYSr9MMvzy

— Tahaaniye (@tahaaniye) June 10, 2021
Ok I need the same energy😂😂😂🥊🥊🥊
Firdous aunti rocked Pakistanis shocked😂#FirdousAshiqAwan pic.twitter.com/YK8RC2uvv1

— Afifa Malik🇵🇰🇵🇸 (@CrazyCatLadyIam) June 10, 2021
So @PTIofficial members base their entire narrative on accusing others of corruption, but when somebody does the very same thing to them, they slap them on TV? #FirdousAshiqAwan

— Usama Khilji (@UsamaKhilji) June 9, 2021