'Unacceptable delay': PDM protests outside ECP against PTI's foreign funding case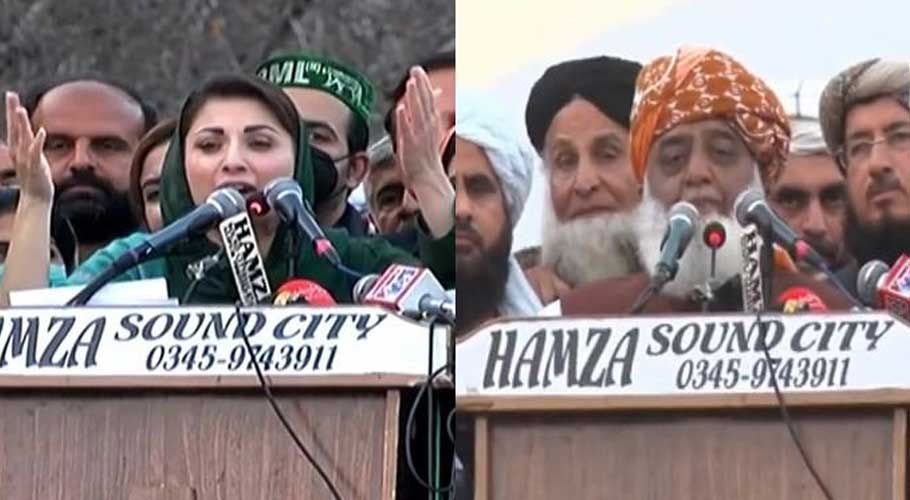 ISLAMABAD: Opposition parties, under the banner of the Pakistan Democratic Movement (PDM), are protesting outside the office of the Election Commission of Pakistan (ECP) in Islamabad against a 'delayed' verdict by the authority in the foreign funding case involving the ruling Pakistan Tehreek-e-Insaf (PTI).
Separate rallies led by different constituent members of the opposition alliance have reached Islamabad. PDM President Maulana Fazlur Rehman, PML-N Vice President Maryam Nawaz and other top leaders of the alliance have reached the protest site.
PPP is joining the PDM power show, but its chairman, Bilawal Bhutto-Zardari, will not be part of it. Addressing the crowd, PML-N's Ahsan Iqbal lashed out at the PTI government, saying that he said the government was imposed on Pakistan through illegal money.
"Our social fabric has been destroyed, the economy has been destroyed, CPEC has been destroyed. Time has come to send home this incompetent, inefficient, selected leader," he added.
Ahsan Iqbal further said Prime Minister Imran Khan had said in the past that "if six people say 'Go Niazi Go', I will leave power" but now that "Go Niazi Go is being chanted from Karachi to Gilgit".
Maryam and PPP's Sherry Rehman earlier shared visuals of separate entourages, each being led by leaders of the respective parties, moving towards a decided meeting point in the capital from where they headed towards the ECP office.
Before the rally, Maryam, BNP-M President Sardar Akhtar Mengal, and Mehmood Khan Achakzai gathered at the house of PDM President Rehman where they held a discussion on the arrangements for the protest and the security situation.
The ECP building has been completely sealed with concrete blocks and barbed wire surrounding it, while large number of security personnel have been deployed outside it.
The foreign funding case against PTI was filed in Nov 2014 by Akbar S Babar, a founding member of the party. He had alleged serious financial irregularities in PTI's accounts.