Twitteratis can't get over Minal Khan using Kylie Jenner's Insta story as her own
Minal Khan has invited unnecessary attention after the actress posted American reality TV star Kylie Jenner's Instagram story as her own.
It happened on Monday when Khan posted a picture of fancy food on her Instagram story. Within minutes, social media users were quick enough to point out that the snap actually belonged to the American model.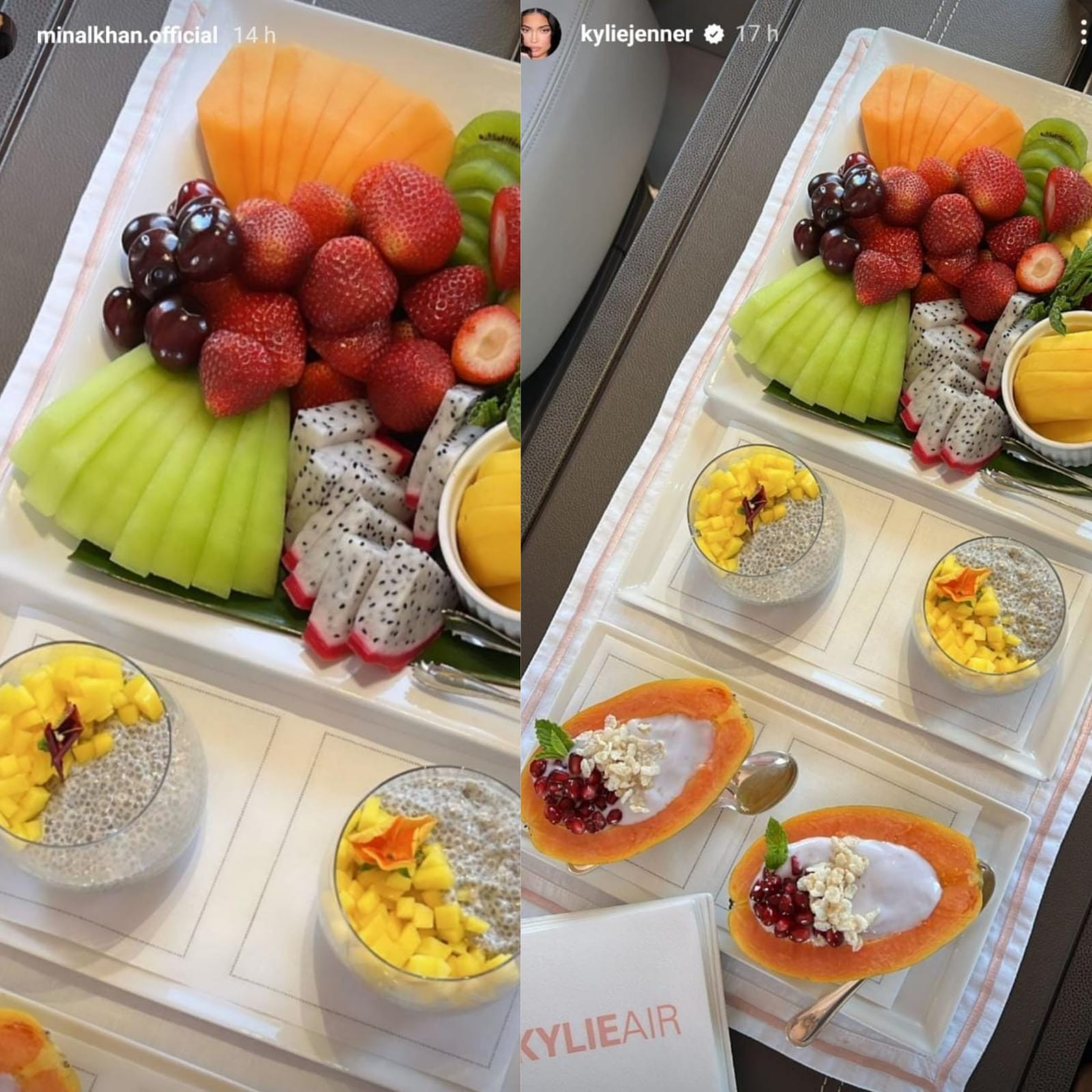 Since then, social media users have been mocking the Pakistani actress for her lazy effort of copying Jenner's story and posting it as her own. A social media user expressed that he did not know 'whether to laugh or get appalled at this audacity. Another one seriously questioned if Khan thinks people in Pakistan do not follow Jenner for her to pull something like that.
Minal khan to Pakistani Awam after copy kylie jenner status copy #MinalKhan #KylieJenner pic.twitter.com/VLDgjhm63g

— RaNa BilaL (@AB21PK) June 21, 2022
I don't know what's more confusing – the fact that minal khan thinks none of us know who Kylie jenner is, or her response to get caught #MinalKhan #KylieJenner pic.twitter.com/yPQNUkXBwn

— Free Palestine 🇵🇸 (@Bellatrixlests) June 21, 2022
After lunch…!!#minalkhan pic.twitter.com/EfnHTfri54

— bread pitt🍞🐕 (@seeker_1122) June 21, 2022
Does Minal Khan really think none of us follow or know who Kylie Jenner is 😭😭💀💀😭😭 pic.twitter.com/fxLFrVwNR2

— Miss incompetent (@haniafsc) June 21, 2022
#MinalKhan copying #KylieJenner story

This is not a fun thing, On social media, some influencers just post random luxuries and the public go bananas over it. They start believing and there's when the real pain starts. We should fact-check such posts and unfollow fake celebrities pic.twitter.com/pTIDd7BvJv

— Umer Idrisi (@umeridrisi) June 21, 2022
After copying #KylieJenner story , #MinalKhan be like :#MinalKhan pic.twitter.com/7s8Yi1PyAP

— Sadia Hussain (@Sadia_hussain00) June 21, 2022
Relax guys, it is PIA's customised menu for the celebrities on diet 😂 Kylie and Minal both were travelling to Giglit 🙂 #MinalKhan #KylieJenner pic.twitter.com/n91HLuIUvf

— Hira Ibrahim (@HiraIbrahim10) June 21, 2022
Why are we so damn desperate to show that we are happy and rich, and for that we show and create fake stories? Why do we need people's approval? #MinalKhan #KylieJenner

— Sana Amin (@SanasBucket) June 21, 2022
Why minal?#MinalKhan #KylieJenner pic.twitter.com/MqxGAWXxSx

— Saadiyah Naeemi (@saadiya_naeemi) June 21, 2022
Actress #MinalKhan after copying the breakfast Insta post of #KylieJenner. pic.twitter.com/XPMp8mREYX

— Kumar D (@aka_dpu) June 21, 2022