Stock market plunges over 520 points on coronavirus fears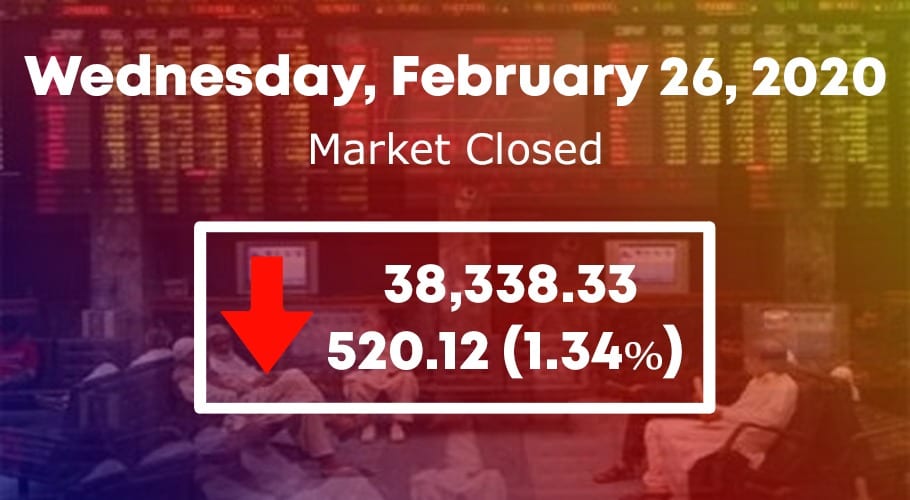 KARACHI: The stock market plunged for the third consecutive day on Wednesday losing over 520 points in intra-day trading as fears increased over the coronavirus outbreak.
The benchmark KSE 100 index decreased by 520.12 points, or a decline of 1.24 percent, and closed at 38,338.33 points. The indices dropped as low as 38,074.16 points and risked losing the 38,000 level before trading was suspended. The total value of shares was 118.393 million valued at Rs6.225bn.
The lower bench KSE 30 index also shed 230.76 points (-1.29%) and close at 17,647.62 points. The total volume of scripts was 56.951 million. The shares prices of the top active stocks ended up in the red as investors dumped stocks and stayed away from the stock market.
The stock market received a battering as the coronavirus epidemic starting spreading rapidly across the globe and has been knocking on Pakistan's border. Neighbouring Iran has recorded at least fifteen deaths and 95 cases of the deadly disease.
There was turmoil in the global markets as investors reacted with panic to the ongoing development. Stocks across the world fell on Tuesday over the economic effects of the novel coronavirus. The decline was augmented by weak regional markets, lower oil prices, and the deadlock with the International Monetary Fund (IMF).
The coronavirus has infected some 80,000 people and killed more than 2,600 people, most of them in China. Many European countries such as Switzerland, Austria, Italy, and Croatia have also recorded cases.