Special audit of HEJ in Karachi University feared to be 'recommended'
KARACHI: A special audit of Hussain Ibrahim Jamal Research Institute at Karachi University has been prepared. In the past, the audit authorities had been giving reports of "all good" and it is feared the same again. 
According to details, Hussain Ibrahim Jamal Research Institute (HEJ), an influential institute at Karachi University, has been directed by the Chief Auditor General of Sindh to conduct a special audit of the International Center for Chemical and Biological Sciences (ICCBS). TORs have been asked to be prepared for a special audit as per letter-number FAT / 11 / ICCBS / ToRs.
According to a letter written to ICCBS Director Iqbal Chaudhry, some documents need to be provided to make financial accounts transparent. So that under the International Center of Chemical and Biological Sciences (ICCBS) all the institutions including HEJ, Dr. Panjuani Center, Dr. Ata-ur-Rehman Laboratories Special Audit for the financial year 2017-18 to 2021-22 full and transparent calculation.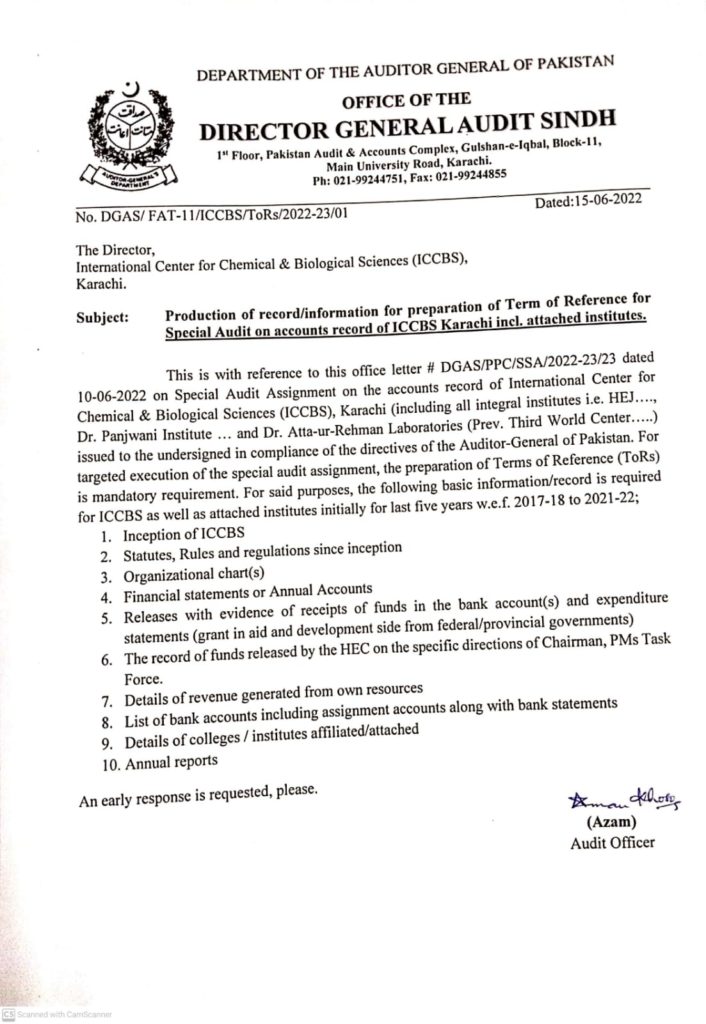 According to the letter, ICCBS inspection of existing laws, rules and regulations, organizational charts, financial statements and annual accounts, grants from federal and provincial governments, details of expenditure of development funds, receipts of expenditure and other details have been sought. Furthermore, details of funds released by the Chairman of the Prime Task Force and the funds released by the Higher Education Commission, complete information on income from various sources of AJEJ and details of all accounts of the institution as well as assignments. An annual report including a list of accounts, and details of colleges and institutes affiliated with the institution should also be provided.
Sources said that the officers of the Auditor General of Pakistan who had come to HEJ earlier had been receiving recruitments and donations by writing a report of "all good", due to which it is feared that once again former audit officers all donations will be received by writing good reports and HEJ's financial accounts will not be transparently accounted for.