Pakistani director blames TV channel for promoting nepotism
Senior journalist and director Abu Aleeha has recently claimed that the Pakistani entertainment industry chooses nepotism over real talent.
Directly Director Abu Aleeha took to Twitter and directly made a jab at actors Haroon Kadwani and Azaan Sami Khan. and claimed that Geo TV promotes actor Abdullah Kadwani's son Haroon Kadwani and singer Adnan Sami Khan's son Azaan Sami Khan.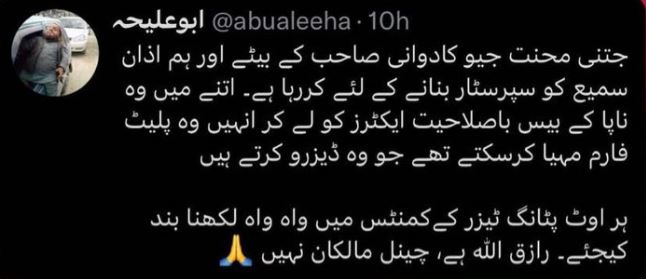 According to Aleehas, the selection should have actually been n done on NAPA's talented acting students. He also urged audiences to stop praising every other mediocre teaser in comments.
Read more: Sajal Aly all set to star with Azaan Sami in 'Ishq-e-Laa'
Haroon Kadwani's father Abdullah Kadwani is an actor turned producer and director. He owns the famous 7th Sky Production Company. Meanwhile, actor Azaan Sami Khan is the son of famous Indian singer Adnan Sami Khan and Pakistani actress Zeba Bakhtiar.
On the work front, Azaan Sami Khan is currently working as a lead in 'Ishq e Laa' opposite Sajal Aly.  The drama besides Aly and Khan also includes Yumna Zaidi in the pivot role.