Nawaz Sharif given 'conditional' permission to travel abroad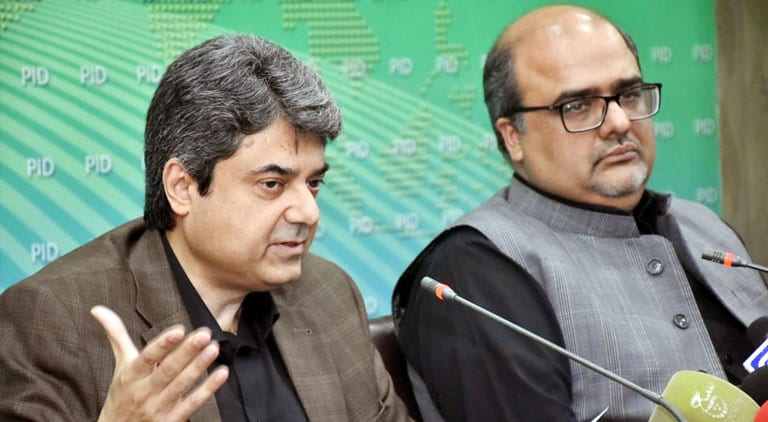 ISLAMABAD: The government has given a conditional permission for a four-week period against indemnity bonds to former prime minister Nawaz Sharif to travel abroad for medical treatment.
Law Minister Farogh Naseem made the announcement Wednesday after a meeting of the federal cabinet's sub-committee to decide the removal of Nawaz Sharif's name from the Exit Control List (ECL).
Speaking to reporters, the law minister said that
Nawaz Sharif will be given four-week long, one-time permission to travel abroad for medical treatmeny
"Keeping in mind his adverse critical medical condition, Nawaz Sharif will be given four-week long, one-time permission to travel abroad for medical treatment.
"This permission will be subject to Nawaz Sharif or Shehbaz Sharif submitting an indemnity bond to the tune of roughly Rs7-7.5 billion to the satisfaction of additional secretary to the Ministry of Interior," he added.
Prime minister's special assistant on accountability Shahzad Akbar said that requests from the Sharif Medical City, as well as the government-formed medical board, were taken into consideration.
"Nawaz has been given this one-time permission only for medical treatment," Akbar said.
"It is the federal government's responsibility to ensure a guarantee from him and that that bond was only over surety, not any political gain."
The special assistant said the government understood Nawaz was unwell but stressed that the former premier was required to return to Pakistan after his medical treatment was completed. He said that Ministry of Interior will issue the letter of permission.
Akbar further noted the PML-N leader had been sentenced in a mega-corruption case and that investigation was still underway in some cases including the Chaudhry Sugar Mills.
Nawaz was convicted by an accountability court last December in the Al-Azizia corruption reference and awarded a seven-year imprisonment sentence, alongside a fine worth Rs1.5 billion and $25 million (Rs3.88 billion).
Later in the day, the interior ministry issued a memorandum allowing former prime minister Nawaz Sharif a one-time conditional permission to go abroad for medical treatment.
The letter states that the former prime minister will be allowed to travel abroad if he furnishes an indemnity bond as following: (a) 8 million UK Pounds or equivalent rupees; (b) 25 million US Dollars or equivalent rupees, or (c) 1.5 billion rupees.
The memo states that the indemnity bond can either be submitted by Nawaz or his brother, Shehbaz Sharif.
The PML-N president will hold an important press conference on Thursday to discuss the developing situation and has also called an important meeting senior party leaders.