Mehdi Hasan's grave to be restored, says Karachi administrator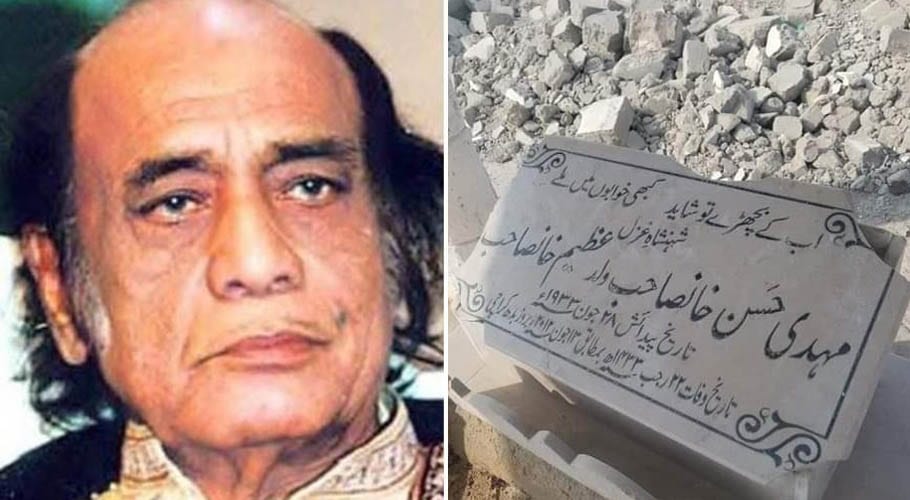 KARACHI: The Karachi Metropolitan Corporation (KMC) would fulfill its responsibilities to uplift the grave of renowned singer Mehdi Hassan.
In a statement, Karachi Administrator Laeeq Ahmed said that Mehdi Hassan was a great singer who served Pakistan with his art. The administrator took notice of news regarding the dilapidated condition of Mehdi Hassan's grave at Muhammad Shah graveyard in Nazimabad Town.
The administrator directed Technical Service Director General, Parks and Horticulture Director General and Senior Director of Municipal Services to conduct a survey and start the works forthwith.
He said that the renovation works would be carried out while plantation would also be done around the grave. He directed that works should be done in a manner that heirs and fans of Mehdi Hassan did not face any difficulty in visiting the grave.

Earlier on January 21, a parliamentary panel directed executive director Lok Virsa to take all the necessary measures for the construction of the tomb of late singer Mehdi Hassan.
In a meeting of the National Assembly's Standing Committee on Federal Education, Professional Training, National Heritage and Culture, the members stressed the need that the Lok Virsa must ensure the depiction of cultural heritage in its future plans.
They said that the subcontinent's legendary artist Mehdi Hassan's tomb shows signs of neglect as it has almost been over eight years since the singer was laid to rest.
Arguably the greatest ghazal singer ever and one of the finest playback vocalists of the subcontinent,  The maestro's contributed to Pakistani film music and lent his voice to more than 300 films and sang more than 5,000 songs.
Mehdi Hassan died on June 13, 2012. He was laid to rest in Karachi's Mohammad Shah graveyard but reports have surfaced about the condition of his grave, disheartening his fans and music lovers.