India stops Muslims from offering Eidul Azha prayers in IoK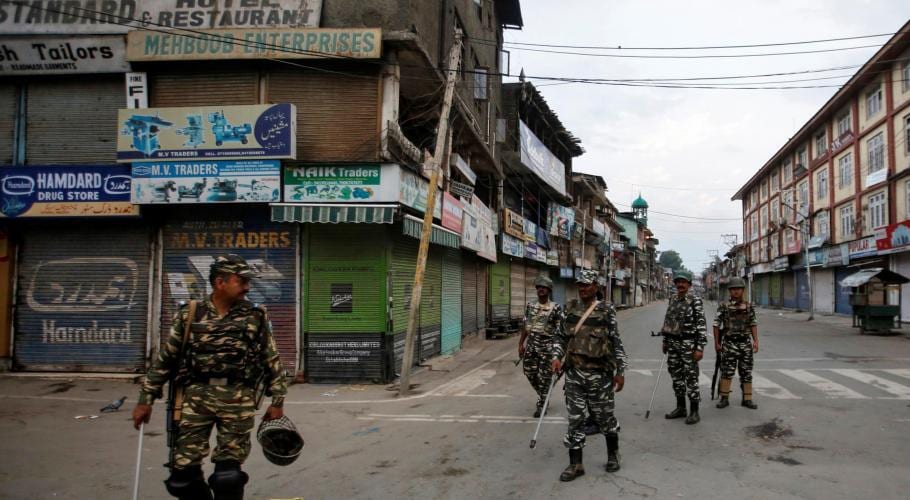 SRINAGAR: The Indian government has barred Muslims from offering

Eidul Azha

prayers on Saturday as the regime's oppressive measures continue in the disputed valley.
As per details, in the administration's bid to stop Muslims from offering their prayers, Indian officials placed locks on mosques' doors, set up barriers, and blocked the roads with barbed wires.
People were forced to stay indoors after police announced on loudspeakers, early morning, that people should stay inside their houses on the occasion of Eid-ul-Azha. 
Meanwhile, due to restrictions, the ritual of sacrifice was held on a limited scale.
India revoked Article 370 of the Indian constitution on August 5, 2019, and has imposed restriction in the valley ever since, repeatedly shutting down mobile and internet services.
On Friday foreign minister Shah Mahmood Qureshi had reaffirmed Pakistan's support for the Kashmiris' struggle for independence from Indian rule and said that the country will stand by the people of the besieged valley till its final victory.
Addressing a press conference in Islamabad, the federal minister regretted that no one other than the Kashmiris themselves knows exactly what has happened during the past one year of the brutal clampdown in the Himalayan region by Indian occupation forces.
After the coronavirus, the minister said that the world ought to understand what it feels like to live under lockdown and to endure forceful restrictions.