Dozens of errors found in adverstiment released by Urdu University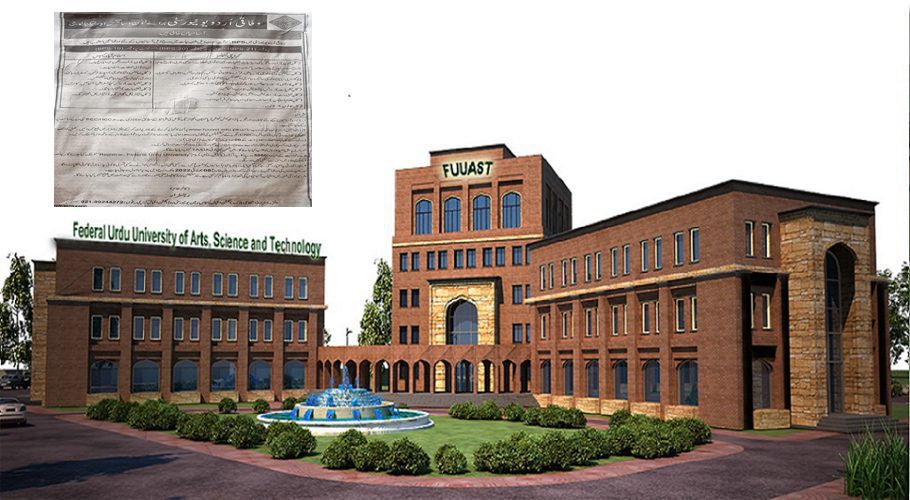 KARACHI: Dozens of errors have come to light in the advertisement for vacancies given by Dr. Zarina, Acting Registrar, Urdu University, which has opened the floodgates of her expertise in office affairs. Mistakes are being widely criticized on social media.
In the name of promotion and publication of Urdu, two advertisements have been published in Urdu and English for the vacancies in the Urdu University. Advertisement for the posts of 2 Professors, 2 Associate Professors and 4 Assistant Professors for each department under TTS for Faculty of Islamic Studies, Faculty of Law and Faculty of Arts, Faculty of Science and Technology, Faculty of Management and Faculty of Education at Islamabad Campus have been given.
Similarly, advertisements have been issued for BPS for Grade 21 Professor, Grade 20 Associate Professor and Grade 19 Assistant Professor in both Campuses of Karachi, Faculty of Arts, Faculty of Science and Technology, Faculty of Pharmacy, Faculty of Management, Faculty of Education, for the Faculty of Islamic Studies and the Faculty of Law, while the Islamabad Campus has been advertised for the Faculty of Arts, Faculty of Science and Technology, Faculty of Management and Faculty of Education.
Qualifications and experience for the posts must be in accordance with the requirements of the Higher Education Commission and the Pakistan Engineering Council. Candidates have until July 8 to submit their papers. The decision of the selection board will be final and will not be challenged in any court.
Dozens of mistakes have been found in English in these advertisements of vacancies and some English sentences were also used in Urdu advertisements.
The errors in the advertisement published in a reputed English newspaper could not be corrected due to which the acting registrar of the university, Dr. Prof. Zarina, is facing severe criticism on social media. Sentences and misspellings of English words include position, math, online, point out, authorized, related, position, decision, not challenging and other words.
Following these viral advertisements on social media, users are arguing against the university administration and the registrar as to what it means to make such mistakes in a higher education institution. Acting Registrar Dr Zarina was contacted but she did not receive a call.
On the other hand, after the release of these advertisements, there are rumors among the teachers as to what will be the decision regarding the previous selection board, will the letters be issued or not? On the other hand, regarding the selection board, the teachers of the university are divided into four different sections. There is no board but they qualify for the next grade and at number four are the teachers who have been waiting for the selection board since 2017, they want a new selection board.
Some teachers of Urdu University believe that due to lack of educated people in the Syndicate, financially and politically influential members of the syndicate cannot solve the issues completely because they themselves have problems with teachers and education.