COVID-19: Pakistan records 146 deaths as toll near 18,000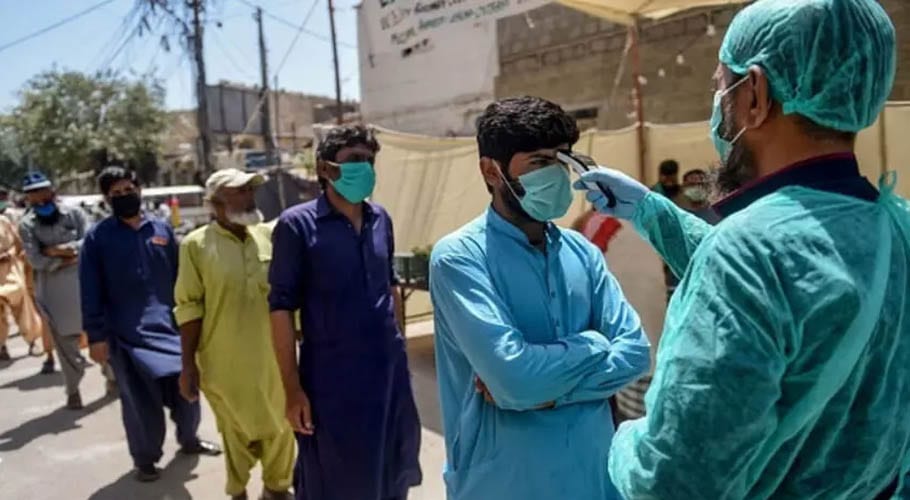 ISLAMABAD: Pakistan reported another 146 deaths from the novel coronavirus on Saturday, as the death toll from the pandemic nears 18,000 amid a surging third wave.
According to the National Command and Operations Centre (NCOC), Pakistan reported another 4,696 cases and 146 deaths in the previous day. The national tally of coronavirus cases has reached 825,519 while the death toll stands at 17,957.
There were 48,740 samples were tested in the past day, while the positivity ratio was 9.63 percent. Overall 717,009 people have recovered from the virus, including 5,544 in the past day.
The number of active cases has crossed 90,000 mark as 90,553 people are suffering from the disease. There are 5,490 people who remain in critical condition while over 5000 remain on oxygen as supplied dwindle in major cities amid an impending shortage.
The number of cases in Punjab have crossed the grim 300,000 cases. Punjab has reported 303,182 cases and 8,500 deaths, while the number of active cases in the province stands at 47,632. Islamabad has recorded 75,632 cases and 683 deaths while there are 12,495 active cases in the federal capital.
The number of coronavirus cases in Khyber Pakhtunkhwa stands at 188,413 and 3,310 deaths while there are 12,495 active cases in the province. Sindh has recorded 283,560 cases and 4,629 deaths while Balochistan has recorded 22,369 cases and 236 deaths.
President Arif Alvi has warned that hospitals would not be able to cope with coronavirus patients if cases continue to rise. The president said that COVID-19 has wreaked havoc in the region and even Pakistan's cases have gone beyond 5,000 besides a record increase in COVID deaths.
"If this rising trend continues, then the situation will go out of the hands of the hospitals," he said while urging people to act upon the teachings of discipline taught by the Holy Prophet (PBUH).
President Alvi said Muslims should adopt precautionary measures to remain steadfast during these testing times. He urged to wear masks during Ramazan, Taraweeh, Youm-e-Ali, and Eid occasions.
He said that the masses should adopt strict precautionary measures as government and private sector do not have enough resources to deal with the pandemic.