Coronavirus death toll hits 924,569 worldwide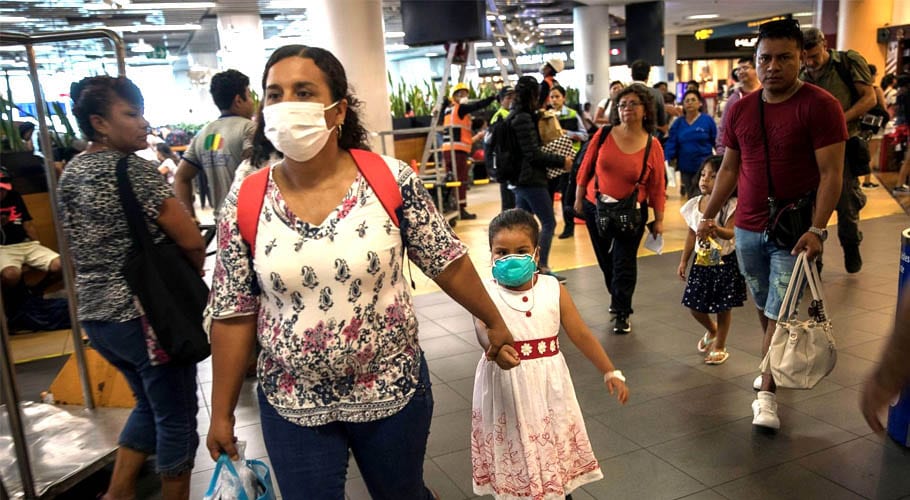 WASHINGTON: The global epidemic of coronavirus has infected 28,940,223 people in the world and 924,569people have lost their lives.
The number of coronavirus infection cases across the world has surged to 

28,940,223and the pandemic has so far claimed over 924,569 lives. 

So far, 

20,807,121have been cured in the world and at present, the number of active cases is 7,208,533.
The United States and India are the second most affected by the virus in the world.
The number of people infected with coronavirus in the United States has risen to more than 6,676,601 with 198,128 deaths.
India ranks second among the countries affected by the coronavirus, with more than 4,751,788 people affected and a total death toll of 78,614.
Brazil is the third most affected country by the coronavirus, with more than 
4,315,858 patients and 131,274 deaths.
Russia is the fourth most affected country by the coronavirus, with more than

1,057,362 people infected and 18,484 deaths.

In Peru, more than

722,832 people have been affected and 30,593 have lost their lives. 
Coronavirus has claimed 22,734 people in Colombia and more than 708,964 cases have been reported.
The death toll from coronavirus in South Africa has risen to 15,427 with more than 648,214 people affected.
More than

663,973 people have been affected in Mexico, with 70,604 deaths. 

Spain has recorded 

29,747 fatalities and 576,697 infections. 

In Chile, nearly

432,666 cases were confirmed, including more than 11,895 deaths.
Italy, which recorded its first coronavirus death at the end of February, has 35,603 fatalities, while 286,297 infections.
Mexico has reported 70,604 deaths and 663,973 cases. 

Meanwhile, the death toll is 

23,029 in Iran as the confirmed number of cases is almost 399,940. 
Germany has reported 9,427 deaths and 260,546
infections.
Turkey reported 289,635 coronavirus cases and 6,999 fatalities.
China has to date declared 4,634 deaths and 85,184 cases, with 80,399 recoveries and 151 active cases of the virus.
Earlier, the World Health Organization chief Tedros Adhanom Ghebreyesus had said the world should be better prepared for the next pandemic, urging the countries to invest in public health.
"No country can eradicate corona, in fact, the virus spreads easily, he said.

 This will not be the last pandemic," Tedros Adhanom told a news briefing in Geneva on Monday.
The WHOcheif further said, "History teaches us that outbreaks and pandemics are a fact of life. However, when the next pandemic comes, the world community must be ready – more ready than it was this time," he added.