Controversy over dual nationality and role of overseas Pakistanis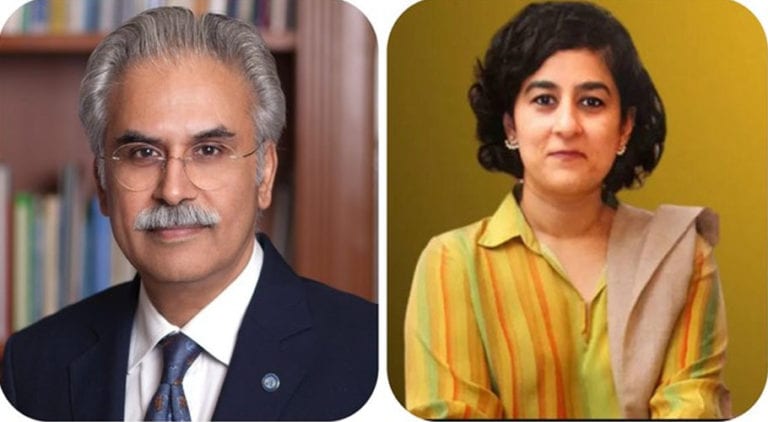 The resignations of Special Assistants to the Prime Ministers, Dr Zafar Mirza and Tania Aidrus, has opened a new debate and once again raised questions on the dual nationalities of politicians, advisers, special assistants and even bureaucrats.
In an unprecedented step, the prime minister instructed all members of the cabinets including advisers and special assistants to declare their personal assets and dual nationalities. The declarations showed that many of them were multi-millionaires and owned vast amounts of wealth and foreign properties.
It was however their foreign nationalities which proved to be the most divisive. Four of them disclosed having dual nationalities while three others have foreign residencies. Eventually, two of them stepped down due to growing criticism.
Citizenship law
The Pakistani nationality law governs citizenship of the Islamic Republic of Pakistan. The principal legislation determining nationality, the Pakistan Citizenship Act, was passed by the Constituent Assembly of Pakistan on 13th April 1951.
Pakistan is the only country in Asia with unconditional jus soli citizenship rights, commonly referred to as birthright citizenship – the right of anyone born in the territory of a state to nationality or citizenship.
According to the Citizenship Act, dual Citizenship or nationality not permitted and if a person holds citizenship outside of Pakistan then the Pakistani citizenship is terminated.
There are certain exceptions unless one decides to renounce the other, one has citizenship in Britain or its colonies, or if a female is married to a man who is not a Pakistani citizen.
The Pakistani Citizenship Act allowed persons who were subjects of the state of Jammu and Kashmir to travel under a Pakistani passport and be considered a citizen of Pakistan without prejudice.
Dual nationality
Since independence, the growth of expatriate Pakistani communities in the Middle East, Europe and North America has led to several changes in Pakistani nationality law. Dual citizenship is allowed in certain specified circumstances such as where the citizen who is acquiring the second nationality is under the age of 21.
Citizens who have acquired the citizenship of the following nations are allowed to hold dual nationality: Australia, Bahrain, Belgium, Canada, Denmark, Egypt, Finland, France, Iceland, Ireland, Italy, Jordan, Netherlands, New Zealand, Sweden, Switzerland, Syria, Turkey, United Kingdom or United States.
Controversy over dual nationality
Pakistanis with dual citizenship are forbidden to run for public office, become members of parliament, contest elections, or join the military.
On 20th September 2012, the Supreme Court of Pakistan disqualified eleven lawmakers including Interior Minister Rehman Malik for failing to disclose their dual nationalities upon taking office.
The proposed 21st Amendment to the Constitution of Pakistan would have allowed dual citizens to hold public office and contest elections, but the amendment was never passed.
Ever since many politicians have been disqualified for possessing for failing to disclose foreign nationalities or had to step aside including Dr Asim Hussain, Faraznaz Ispahani, Farhat Mehmood, Ahmed Ali Shah, Nadia Gabol, Jamil Malik, Zahid Iqbal, Ashraf Chauhan, Wasim Qadir, Muhammad Ikhlaq, and Amina Butt.  
On 16th December 2013, the Senate of Pakistan unanimously passed "The Civil Servants (Amendment) Bill, 2013", aimed at barring the civil servants of BPS-20 and above from having dual nationality. On 23rd March, the Election Commission of Pakistan (ECP) banned five National Assembly members, two Sindh Assembly and five Punjab Assembly members for possessing dual nationalities.
In 2018, Senator Haroon Akhtar and Saadia Iqbal of the PML-N were disqualified for holding dual citizenship. The Supreme Court was informed that 1,116 officers working in public organisations and the bureaucracy held foreign nationalities.
Famous cases in present government
Special Assistant to the Prime Minister on Health Services had disclosed his dual nationality, saying he had left a lucrative job at the World Health Organisation (WHO) to serve the country. It was later known he has reigned over unsatisfactory performance and a case in involving the procurement of medicines.
Tania Aidrus, a former Google executive who was in charge of Digital Pakistan initiative, said she was resignation over incessant of her dual nationality. She is a Canadian citizen by birth and a permanent of Singapore where she was employed for several years.
In her resignation letter to the prime minister, Ms Aidrus wrote that she was and will always remain a Pakistan citizenship. She added she will continue to serve the country in any way possible. Her resignation was a setback to the digital future envisioned for the country.
Two key personalities in the cabinet continue to hold foreign nationality. This includes Nadeem Babar, the special assistant on petroleum and is a United States citizen. Zulfiqar Abbas Bukhari, who serves as the Special Assistant on Overseas Pakistanis and Human Resources with the status of a state minister, is a British citizen.
Is bureaucracy next?
The Islamabad High Court (IHC) and the Supreme Court has ruled that there is no bar on adviser and special assistants from holding dual nationalities. The courts have refused to disqualify these unelected members saying there is no provision in the law to stop them.
Nevertheless, questions continue to be raised over the conflict of interest and their patriotism and integrity is being challenged on all occasions. This has also raised a key question whether Overseas Pakistan can serve the nation as envisioned by the prime minister.
It is expected that it will now the bureaucracy's turn to face the heat as their foreign assets and nationalities might be revealed. This could lead to a massive purge and shuffling within the bureaucracy as the government moves to bring transparency and accountability for all.