Bulls regain control as KSE-100 increases by 728 points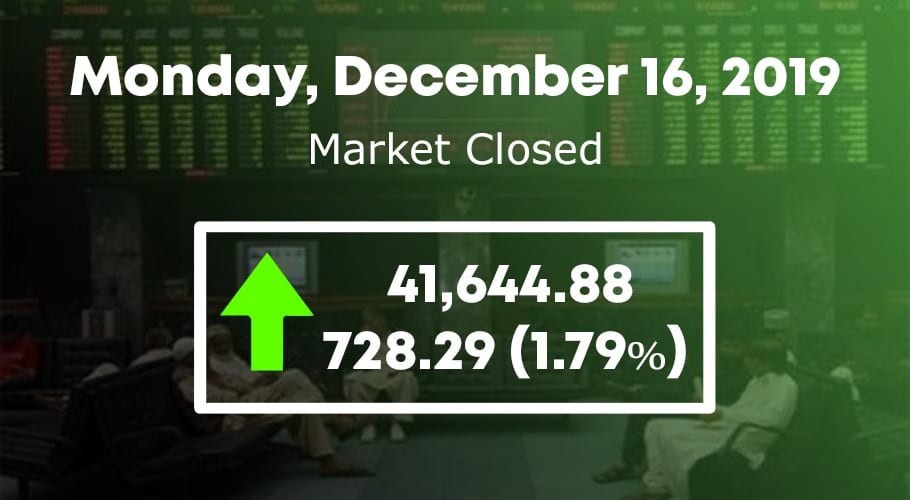 KARACHI: The Pakistan Stock Exchange opened the week with an upward trajectory as market move upward after a roller-coaster ride last week.
The KSE 100 index saw a significant increase of 728.29 points (1.78%) to close at 41,644.88 points. The bourse reached his highest point during intra-day trading at 41,699.88 and lowest level at 40,916.59 points before close. The total volume of scripts traded were 222.3 million worth Rs11.3 billion.
Meanwhile, KSE-30 index closed at 18,676.12 after witnessing an increase of 349.78 (1.88%). The bourse opened at 18,676.12 points. The total volume of scripts was estimated at 100.085 million.
The top active performers were HASCOL (7.90%), Unity Foods (2.93%), SSGC (4.86%) Fauji Foods (0.44%), followed by Faysal Bank (0.21%), Maple Lead Cement (2.67%) and K-Electric (2.27%).
The top advancers were SME Leasing (42.50%), PIM (27.42%), Mian Textile (19.05%), SIBL (16.10%) followed by PAKMI (15.75%), Grays Leasing (13.61%), and KASB Modarba (12.50%).
The stock market has a bumpy week as market forces and investors confidence seek to regain control of the stock market.
On Friday, the KSE 100-share Index closed at 40,916.59 after gaining 184 points continuing the positive streak for the seventh consecutive week.
It was supported by buying interest in stocks of oil companies. The index was last seen trading above 41,000 points in February 2019. Many investors are confident the upward trajectory will continue and the stock market will cross the 45,000 level.
Earlier, Adviser to the Prime Minister on Finance Dr Abdul Hafeez Shaikh had said the recent strong performance of the  stock market was proof of increasing investor confidence on stabilisation measures. 
The adviser had stated that the 14.9 percent gain of the KSE-100 Index in November was the highest one-month return over the past six years.
"The KSE-100 index is up by 14.9% in November 2019, highest one month return after May 2013. Since 16 August 2019, the index increased by 36.6% (10,500 points)," said Mr Shaikh.