Bull run ends as PSX drops by 1047 points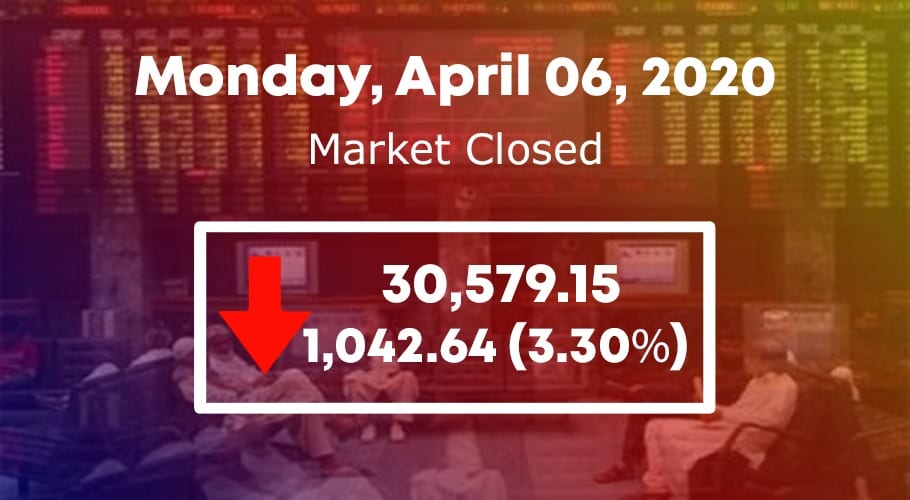 KARACHI: After an upward trajectory for much of the preceding week, the bullish trend came to an end at the Pakistan Stock Exchange (PSX) on Monday as the stock market declined by over a 1000 points.
The benchmark KSE 100 index at the stock market dropped by 1042.64 points, a decline by 3.3 percent, and closed at 30,915.41 points. The indices reached the highest level of 31,915.41 points but could not sustain momentum and kept falling before trading was suspended. The total volume of shares was 181.224 million valued at Rs8.08 billion.
The lower KSE 30 index also declined by 488.74 percent (3.49%) and closed at 13,526.01 points. The total volume of shares was 96.184 million. The share prices of several top active stock declined notably MLCF (-7.33%), KEL (-7.39%), Unity (-8.85%), PIOC (-2.02%), FCCL (-6.88%), BOP (-6.18%), PPL (-2.55%) and Power (-11.76%).
The stock market, which had observed a bullish run for the previous five sessions, witnessed a rally of 3,512 points and a weekly return of 12.5 percent. This has shocked analysts and investors as the stock market was in free fall due to the economic consequences of the coronavirus pandemic.
The stock market ended the preceding week at a positive note closing at 31,621 points on Friday. The equity market had lost a staggering 37 percent in the previous three weeks before it rebounded. Investor confidence remained high due to the financial stimulus, decline in policy rate, and inflation but the bullish trend reached its brakes.