Bakhtawar Bhutto Zardari shares short video of her engagement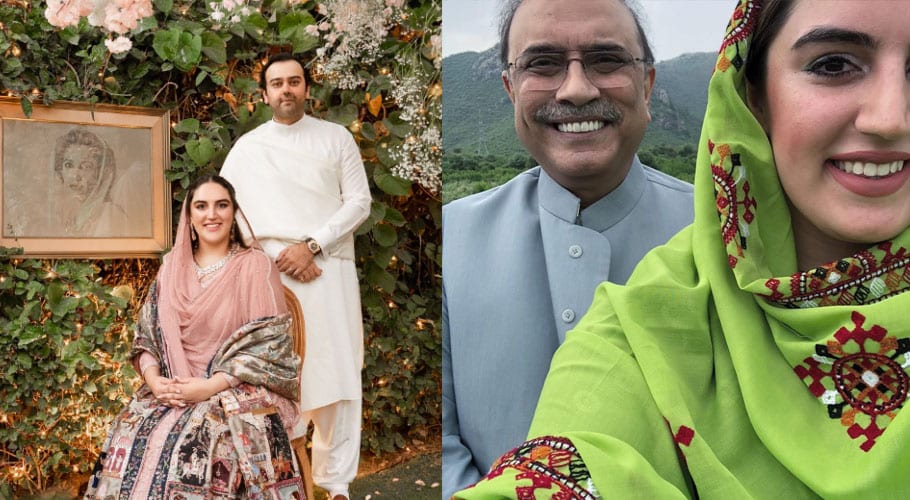 KARACHI: Daughter of former president Asif Ali Zardari's eldest daughter Bakhtawar Bhutto Zardari has shared a short video of her engagement which recently held in Karachi.
Bilawal Bhutto Zardari's sister Bakhtawar Bhutto Zardari, who got engaged to a businessman Mahmood Chaudhry on 27th November, shared a video of her engagement on Instagram.
View this post on Instagram
In a short video of about 30 seconds, Bakhtawar is seen coming with her father Asif Zardari for the ceremony. She along with her father look very happy on this occasion. While Bakhtawar and her fiance are also seen in a cheerful mood.
Bakhtawar Bhutto is engaged to Dubai-based businessman Mahmood Chaudhry. Bakhtawar herself announced the engagement on social media. She shared a photo with her husband to be and introduced him to the people on social media.
Read more: PPP clarifies misinformation on Bakhtawar Bhutto's fiance
It is to be noted that Bakhtawar's engagement ceremony was held at Bilawal House in Karachi in which his younger sister Aseefa Bhutto Zardari, Asif Zardari's close friend Dr. Asim and many other guests participated. However, Bilawal Bhutto could not attend his sister's engagement due to being infected with the coronavirus.