Anti-encroachment drive continues for 12th consecutive day at Mehmoodabad nullah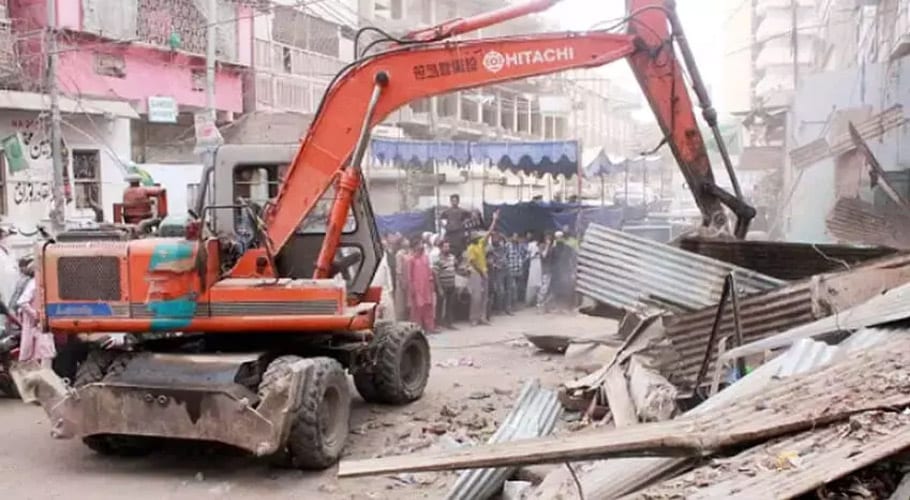 KARACHI: Encroachment removal operation along the Mehmoodabad nullah continued on Friday for the 12th consecutive day as approximately 5 km area was evacuated today.
City Administrator Laeeq Ahmed reviewed the anti-encroachment operation and passed further orders regarding the operation to officials.
On this occasion, he said that the people were facing hardships due to litter and they were living in an unhealthy environment. The administrator said that the road would be constructed around the nullah and the area would soon present a different picture.
He said it was welcome that area people cooperated with the administration as some citizens razed their illegally raised structures themselves, adding that the operation would be completed in a few days.
The encroachments were being removed on the directives of the Supreme Court of Pakistan and KMC's anti-encroachment department, katchi abadi department, land department, municipal services, city wardens and others were taking part in the operation.
Sources said "Senior Director Land and Anti-Encroachment Bashir Siddiqui is present in the anti-encroachment operation carried out on the orders of the Supreme Court on the instructions" Encroachments are being demolished around Marwat Park in Karachi, sources added.
It is to be noted that the main reason for drowning nullah in the rains in Karachi is three out of 27 major nullah which has become impossible to clean due to encroachments. However, due to public resistance.
Earlier, the Sindh High Court had refused to grant interim stay orders on a set of petitions filed against the anti-encroachment drive launched in different parts of the city on the directive of the Supreme Court.
The petitioners approached the SHC after the Sindh Building Control Authority and other authorities had issued them notices regarding demolition of unauthorized encroachments and restaurants on Superhighway, Landhi, Korangi and several other parts of the provincial metropolis. The SHC issued notices to respondents on some of the petitions but did not issue any restraining order.
Last week, the SC had ordered the authorities concerned to launch an operation against unauthorized and illegal encroachments and constructions on government land including parks, green belts, amenity land and other public spaces as well as the land of irrigation and forest departments across the province and sought compliance report within a month.