Zalmay Khalilzad meets new Taliban chief negotiator in Doha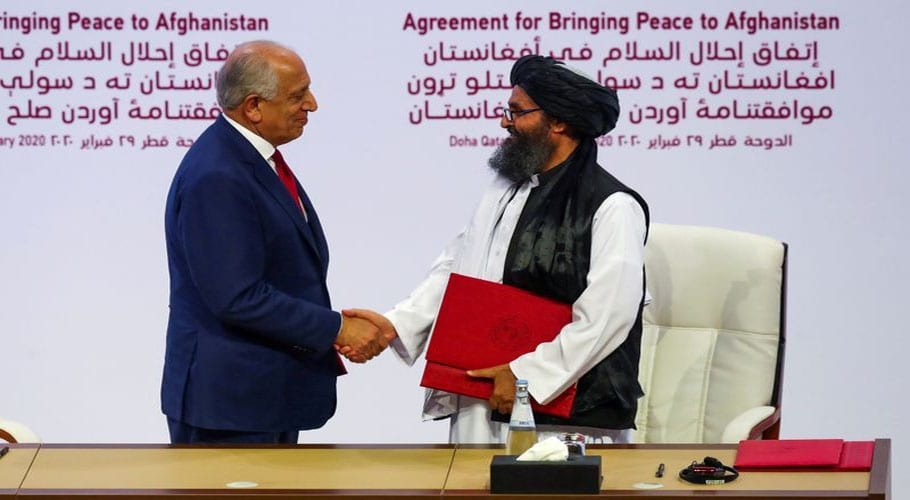 KABUL: US special envoy Zalmay Khalilzad has held a meeting in Doha with the head of the new Taliban chief negotiator and discussed the Afghan peace process.
Taliban spokesman Dr Mohammad Naeem said in a statement shared on Twitter, in Doha, the head of the Taliban's political office, Mullah Abdul Ghani Baradar, and the new head of the Taliban's negotiating team, Abdul Hakim Haqqani, met with Khalilzad and 
Qatar's deputy prime minister.
۲-۲ د قطر هېواد د صدر اعظم مرستیال او د بهرنیو چارو وزیر شیخ محمد بن عبد الرحمن آل ثاني او د امریکا خارجه وزارت خاص استازي ډاکتر زلمي خلیلزاد سره وکتل.
په کتنه کې د بندیانو د خلاصون پروسې د ژر نهايي کیدو او بین الافغاني مذاکراتو د پیل اړوند موضوعاتو په تړاو هر اړخیزې خبرې وشوې.

— ډاکټر محمد نعیم (Dr Mohammad Naeem) (@IeaOffice) September 8, 2020
"Issues related to the prisoners' release and immediate start of the intra-Afghan talks were discussed," Naeem added.
The negotiations, the result of an agreement between Washington and the Taliban, are to begin in Doha after the release of the last half-dozen or so of 5,000 Taliban prisoners.
The Afghan negotiators had been expected to fly from Kabul to Doha this week, but are awaiting a signal from the Afghan government that the release – to which Western governments have objected – is going ahead.
Talks with American officials had for the last two years been led by Baradar, who signed a peace deal with Washington this year that paved the way for international troop withdrawal and intra-Afghan negotiations.
Last week, Taliban supreme leader Haibatullah Akhunzada had announced that a new, 21-member team would be headed by Haqqani and not Baradar, a co-founder of the Taliban, who has been left out entirely.
Earlier, a high-level delegation of Afghan Taliban who was invited by the Foreign Ministry had arrived in Pakistan on August 24.
A delegation of Afghan Taliban reached Islamabad from Doha. According to a Foreign Office spokesman, the Afghan Taliban delegation had discussed advancing the Afghan reconciliation process.
In this regard, Foreign Minister Shah Mehmood Qureshi said that the success of the Afghan peace process was due to collective efforts and the current situation had improved.
Qureshi said that there was a need for the Afghan parties to start a broad dialogue process without further delay.
The foreign minister had said that this was a historic occasion and the focus should be on taking advantage of it in every possible way. He stressed that this opportunity should not be wasted.
The development came days after the Afghan government released some 80 key Taliban figures to pave the way for direct peace talks.
The move was part of a prisoner swap deal, following a landmark peace agreement between the US and Taliban in February this year.
In December 2018, Pakistan arranged rare direct talks between Washington and the Taliban, paving the way for a negotiated settlement of the lingering conflict.